This is one of those recipes where east meets west. Nothing screams western like bacon, while Omurice is a popular dish in the land of the far east. Omurice is consist of omelette and fried rice, and usually topped with tomato ketchup.  I noticed that this dish is not commonly served in traditional Japanese restaurants that offer classics like tempura, sukiyaki, teppanyaki, and sushi. I usually see this dish on the menu of Western-Japanese fusion restaurants.
Typically Omurice uses chicken as meat, but for this recipe I used bacon. I usually prepare this for breakfast or brunch so bacon seems like a better fit. The beauty of this dish is that you can use different vegetables depending on what you have or like – throw in some corn, carrots, sweet bell peppers, mushrooms, or peas. If you're trying to eat healthy, exclude the bacon and  it would equally taste good.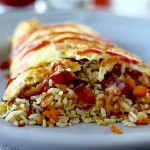 Print Recipe
Bacon Omurice (Japanese Omelette Rice)
Ingredients
For the Fried Rice:
4

slices

bacon

chopped into 1/2 inch pieces

1

piece

medium onion

finely chopped

1/4

cup

carrots

chopped into small cubes

1

piece

small sweet pepper

finely chopped

4

pieces

button mushrooms

finely chopped

1 1/2

cups

cooked white rice

2

teaspoons

soy sauce

1

tablespoon

tomato ketchup

salt and pepper to taste
For the Omelette:
1

tablespoon

canola oil

2

pieces

large eggs

beaten

2

tablespoon

milk

salt to taste
Instructions
For the Fried Rice:
Place the sliced bacon into a hot, wide pan. Cook the bacon until your desired crispiness. Transfer to a plate and set aside.

Once bacon is cooked, remove excess oil (from the bacon) from the pan and leave about 1 tablespoon of oil. Saute the onions until soft.

Add in the mushrooms, carrots, and sweet pepper and cook them through, about 4 minutes. Season with salt and pepper.

Add in the steamed white rice. Separate them into pieces and mix well to ensure that there are no chunks.

Add the cooked bacon, soy sauce and tomato ketchup and combine everything evenly.

Scoop the fried rice into a separate plate and set aside.
For the Omelette:
Beat together the eggs, salt, and milk in a small bowl. Set aside.

Heat oil in a wide pan over medium heat. When pan is hot, pour the egg mixture and tilt the pan to ensure that the bottom is fully covered.

When the eggs are set and the top is still a little runny, carefully transfer the egg from the pan on to the top of the fried rice (runny side facing bottom) to cover it thoroughly. Wrap the rice with the omelette by tucking the edges to form a football shape.

Lastly, decorate the top with the remaining ketchup.