Braised eggplant, mushroom, and pork is a classic Chinese dish. It's quite common in many western Chinese restaurants and definitely needs to be eaten with a bowl of steamed rice!
To make this dish you need to fry the eggplants first, resulting in soft and tasty eggplants, but may make the dish oily. As we know, eggplants soak up oil like a sponge. With that being said, after frying you would want to place the cooked eggplants in a tissue-lined plate to absorb excess oils. Also scoop out the excess oil after the ground pork has been cooked.
My version of braised eggplant, mushroom, and pork excludes chilis – I get the mild spicy kick from the sweet chili sauce. Also note that oyster sauce can be very salty, so if you are unable to find a low-sodium variety reduce the amount indicated in the recipe according to your taste.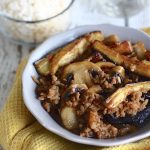 Print Recipe
Braised Eggplant, Mushroom, and Pork
Ingredients
4-6

tablespoons

canola oil

450

grams

around 1 lb Chinese eggplants

1

piece

medium onion

chopped

3

cloves

garlic

chopped

250

grams

lean ground pork

1

cup

sliced button mushrooms

1/4

cup

low sodium oyster sauce

1/4

cup

sweet chili sauce

1/4

teaspoon

ground black pepper

3/4

cup

water
Instructions
Wash the eggplants and slice them into equal sized pieces (about 2-inch length).

On medium high heat, place 2 tablespoons of oil in a wide pan/skillet. Add the eggplants, in batches if necessary, then let it fry until brown and soft. Add more oil as needed.

Place cooked eggplants in a plate lined with tissue to absorb excess oil. Set aside when all eggplants are cooked.

On the same pan remove excess oil and leave about 1 tablespoon of oil. Saute the onions until soft. Add the garlic then cook for about 1 minute. Add the ground pork and let it brown. Scoop out excess oil. Add the mushrooms and cook until soft.

Add the oyster sauce, sweet chili sauce, pepper and water. Bring to a boil then Simmer for about 10 minutes or until sauced has reduced a little.

Add back the fried eggplants and stir. Serve with steamed white rice.