This is how exactly sweet potato fries should be. Crunchy on the outside, soft on the inside; the spice mix gives a sweet, salty, tex-mex flavor, but totally different from taco seasoning.
In the past, I was not a fan of sweet potatoes especially when prepared as fries. I liked the classic, crispy McDonalds type of potato french fries. But but but, I had a change of heart when I tried Burgers and Brewskie's sweet potato fries. I was pretty amazed that sweet potato fries could actually taste that good! It was crunchy and has a tex-mex flavor, but totally different from taco seasoning. I've tried several combinations for my spice mix and I find that a blend of garlic powder, salt, cumin, brown sugar, and cayenne compliments this healthy root vegetable the best.
When I baked them the taste and crispiness is good though I find it a little dry. For me, deep frying yields the tastiest result. Not the healthiest option, but c'mon, balance is the key! 🙂
So when you want a good sweet potato fries try this recipe and let me know what you think, okeee?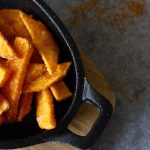 Print Recipe
Crispy Sweet Potato Fries with Special Spice Mix
Say goodbye to those limp fries and hello to crispy sweet potato fries with a dash of this special spice mix for extra kick!
Ingredients
For the Sweet Potato Fries
1

piece

medium sized sweet potato

about 400 grams

3/4

cup

cornstarch

1/2

cup

cold water
For the Special Spice Mix
1/2

teaspoon

garlic powder

1/2

teaspoon

light brown sugar

1/4

teaspoon

ground cumin

1/4

teaspoon

cayenne pepper

1/4-1/2

teaspoon

salt
Instructions
Make the spice mix by combining all the ingredients together. Start with 1/8 teaspoon of salt first then add later to your liking (Note 1). Set aside.

Slice sweet potatoes into thin, uniform fries. In a mixing bowl, whisk cornstarch and cold water. Dip the fries in the batter. Do in batches, if necessary. Allow any excess to drip off by placing the dipped pieces in a wire rack.

Heat a heavy-bottomed pan with oil over medium heat until about 350 degrees F. The amount of oil should be enough for the the sweet potatoes to be completely submerged. Fry the sweet potatoes, in batches if necessary, until golden brown and crispy (around 3-5 minutes). Immediately sprinkle with the spice mix.
Notes
(Note 1) Try the spice mix first by adding it into few pieces of cooked sweet potato fries. Adjust the taste (e.g. add salt, cumin) according to your liking before using the whole batch. The amount of cayenne in this recipe just adds an extra kick. If you want it to be spicy, add more or use chili powder.