This is our go-to, everyday pork chop recipe. A simple but magical pork chop marinade that truly inufses the meat with great flavor. It is savory with just a hint of sweetness. The marinade uses pantry essentials: soy sauce, garlic, sugar, worcestershire, mustard, and pepper. For thin pork chops (about 1/2 inch thick), marinate the meat for as little as one hour, and about at least two hours for thicker ones. More often than not, I pan-grilled the chops because it's faster and easier, but grilling in the barbecue would be just as tasty. My mother-in-law used to make pork chops that taste very much like these, so my husband feels nostalgic everytime he eats this. We love pairing this with
Mediterranean Butter Rice
,
Roasted Vegetables
, or some Potato Gratin. Enjoy! 🙂
-Trish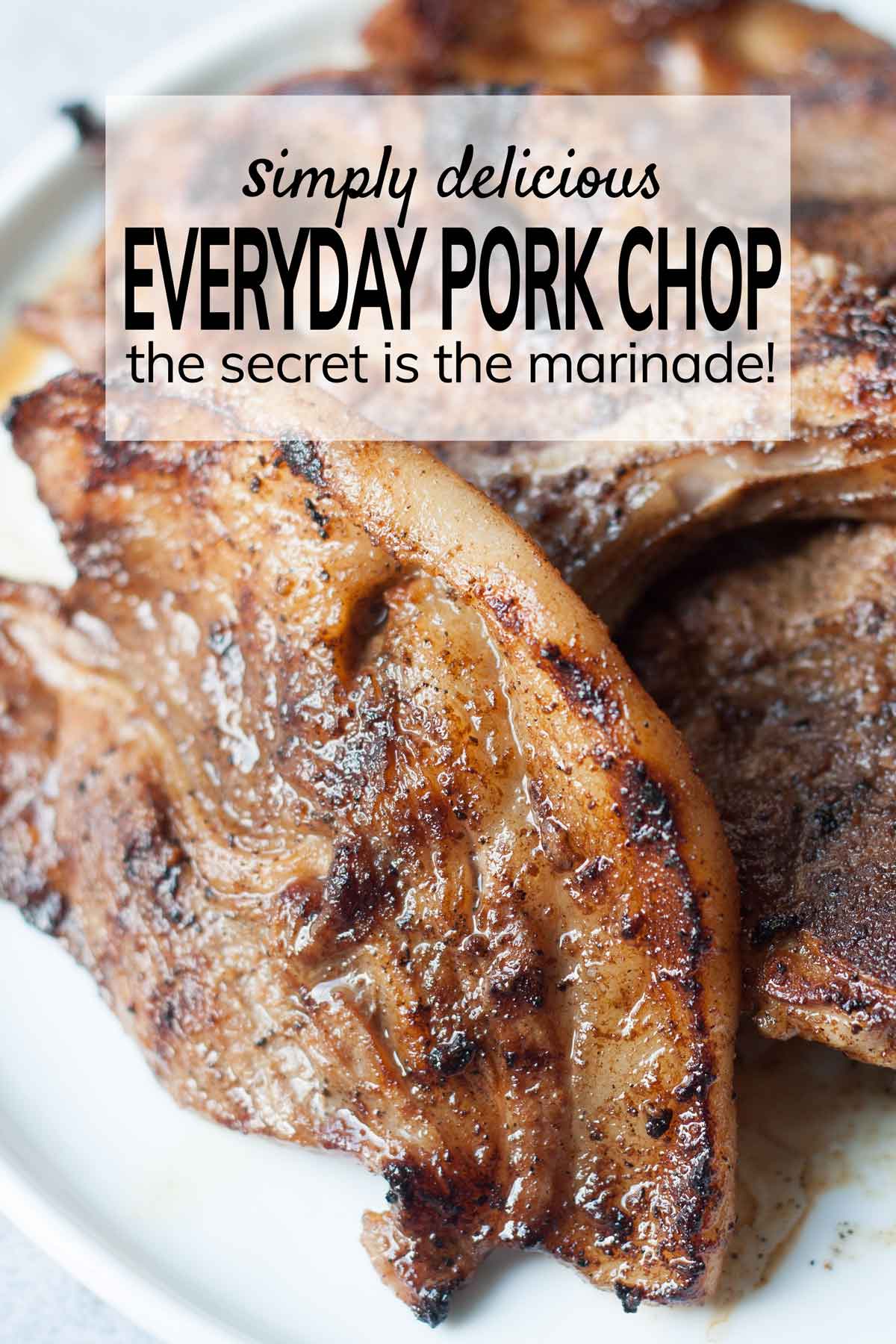 [the_ad_placement id="insidecontent1″]
This post may contain affiliate links for your convenience. I may earn a small commission which helps keep my blog up and running but it won't cost you a penny more! Click
here
to ready my full disclosure policy.
Everyday Pork Chop Recipe
Here's What You'll Need
TOOLS AND EQUIPMENT:
INGREDIENTS:
4 piece bone-in pork chops (about 1/2 inch or 1.25 cm thick)
1 tablespoon cooking oil
For the Marinade
1/3 cup (80 ml) regular or all-purpose soy sauce
2 teaspoons Worcestershire Sauce
1 teaspoon dijon mustard
2 tablespoons brown sugar
3 cloves garlic, minced
1/4 teaspoon black pepper
Recipe Walkthrough
Prepare the marinade
Mix together all the marinade ingredients in a bowl or in a Ziploc bag.
Marinate the meat for a few hours, depending on thickness
Add the chops and make sure all sides are coated. Marinate the pork chops for at least an hour for thin chops (about 1/2 inch thick) and about at least 2 hours for thicker ones. Place the meat in the fridge if marinating for more than 1 hour.
I personally prefer thinner chops with some fat on the edges to make the pork chop really juicy! This recipe also works well with pork belly, pork steaks, or sliced pork shoulder.
Grill the pork chops
This everyday porkchop recipe can be grilled in a pan or in a barbecue grill. More often than not, I use a grill pan because it's faster and easier for me. (I'm not very knowledgeable with charcoals and barbecue stuff!:) ) I also tend to make this recipe when I'm very busy so naturally, a cast iron grill pan or this indoor grill will always be my choice.
Brush the BBQ grill or drizzle oil in a pan over medium-high heat. Add pork chops and cook for 4 minutes (for thin chops) or until the underside is caramelized and the pork releases from the grill, then turn the chops and cook for another 3 minutes. Note that these times may vary, depending on the thickness of your meat!
[the_ad_placement id="insidecontent2″]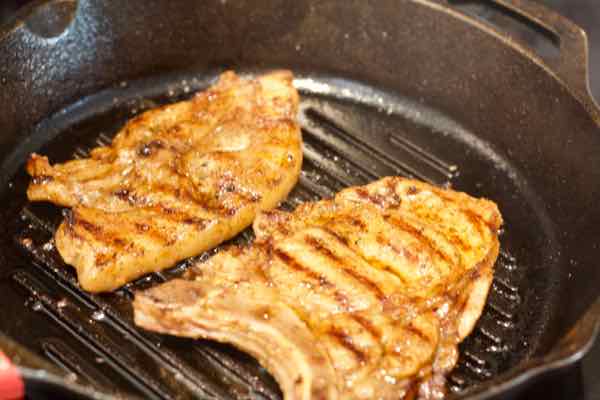 Baste both sides with the leftover marinade, then cook the basted side again for about 30 seconds before serving.
Serve this Everyday Pork Chop Recipe With:
[the_ad_placement id="insidecontent3″]
More Savory Food