Filipino-Style Spaghetti is one of the favorite dishes Filipinos serve during special occasions such as birthdays and fiestas. It has to be sweet, with lots of meat, and topped with grated cheese. Popular choices are, of course, Jollibee and Amber's.
There are many versions on how to cook this – every family might have one of their own. Some add luncheon meat, corned beef, red hotdogs, carrots, bell peppers, banana catsup, evaporated milk, and even condensed milk. I have never liked using banana ketchup and processed meat in Filipino spaghetti. Didn't like the taste but hey, to each his own.
This recipe version makes use of store-bought Filipino spaghetti sauce. I then use just ground beef and add a can of cream of mushroom, which is the difference maker. It adds a hint of creamy taste and, at the same time, balances the sweetness. Fresh cream is  a good alternative when cream of mushroom is not available.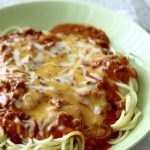 Print Recipe
Filipino Sweet-Style Spaghetti
Filipino-style spaghetti is sweet, meaty, creamy, and cheesy. The addition of cream of mushroom balances the sweetness.
Ingredients
250

grams

uncooked spaghetti noodles

2

tablespoons

cooking oil

1

piece

medium onion

finely chopped

4

cloves

garlic

minced

250

grams

lean ground beef

1 500-

gram-pack Filipino-style spaghetti sauce

1

can

248ml cream of mushroom ((I use campbell's))

1

cup

grated cheddar cheese
Instructions
Cook the spaghetti noodles according to package instructions. Once cooked, drain the noodles and set aside.

In a large saucepan over medium heat, add the oil. When oil is hot, add the chopped onions and cook until soft. Add the garlic and saute for about one more minute. You do not want the garlic to turn brown.

Add the ground beef and break them apart. Cook the beef until the color turns deep brown, about 7-10 minutes. Add salt and pepper to taste.

Pour in the spaghetti sauce and cream of mushroom. Stir the mixture using a whisk to produce a smooth sauce. Bring to a boil. Stir the sauce once or twice to ensure that nothing sticks at the bottom of the pan. Turn the heat off.

Pour the sauce over cooked noodles and top with grated cheese.
more delicious recipes