Katsudon is a combination of two all-time Japanese comfort foods: tonkatsu and donburi.
It is cooked by simmering onions in a Japanese sauce until their soft and succulent, then topped with the tonkatsu and an egg mixture, before sliding all of these over a steaming bowl of rice. I highly recommend topping your Katsudon with green onions and a dash of
Togarashi
.
How Katsudon Originated
It was said that this dish originated at a Tokyo restaurant who had prepared lots of tonkatsu for a large group but that party cancelled their dinner at the last minute. Katsudon was then created out of the need to use all those crispy tonkatsu!
This dish is truly irresistible! No wonder it is a favorite of many, my husband included. So make sure to cook more than enough tonkatsu and save the leftovers for this rice bowl!


[the_ad_placement id="insidecontent1″]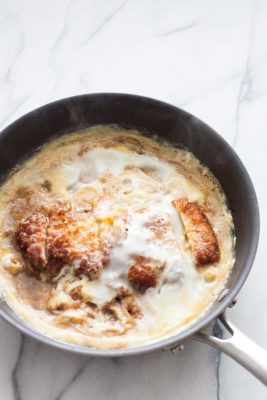 Katsudon
Print Recipe
Ingredients
1

piece

medium white onion

1/4

cup

dashi stock

(Note 1)

1/4

cup

mirin

1/4

cup

soy sauce

1

teaspoon

sugar

4

pieces

eggs

2

pieces

cooked tonkatsu

(Note 2)

2

cups

cooked Japanese rice

green onions for garnish

optional

Togarashi

optional
Instructions
Peel the onions then cut in half lengthwise and slice. To make the Katsudon sauce, combine the dashi stock, mirin, sugar, and soy sauce. Set aside.

Break the eggs in a separate bowl and lightly beat them. You want part of the yolk and whites to be lightly mixed, while other parts are separated. Set aside.

Prepare the Katsudon one serving at a time. In a small skillet (a 6-inch or 7-inch skillet works great), spread half of the onions and pour half of the Katsudon sauce. Bring to a boil over medium heat for about 5 minutes, or until the onions soften. Place a sliced tonkatsu fillet in the sauce and cook for another 30 seconds. Pour one-half of the egg mixture over the tonkatsu, onions, and sauce. Do not mix. Cover the skillet and cook for another 30 seconds. Remove the skillet from heat and let the Katsudon rest, covered, for about 1 minute.

While the Katsudon is resting, scoop a cup of cooked white rice in a shallow bowl. When the Katsudon is ready, uncover the skillet and slide entire contents onto the rice. Tilt the skillet and use a spatula if necessary. Garnish with sliced green onions and a sprinkle of Togarashi. Repeat the same steps for the remaining serving.
Notes
(Note 1) Dashi is a Japanese stock, and it is a fundamental ingredient in many Japanese dishes. It is used in many Japanese dishes, such as miso soup and donburi. Without dashi in Japanese cooking, it lacks authenticity. Nowadays there are MSG-free Dashi granules/powders available at Japanese grocery stores, but it is quite difficult to find in Asian grocery stores. I use dashi granules and dissolve them in water, just like how you would use a normal chicken/beef powder or cubes to make a stock.
(Note 2) To make Tonkatsu, lay the pork fillets (use boneless pork shoulder or pork loin) on a cutting board. Pound each side to flatten the meat to about 1/2 inch thick. Cut 1/2-inch notches into the white fat of the pork (if there is) to prevent the meat from curling when frying. Season the fillets with salt and pepper. Bread the pork fillets by dipping them in this order: flour, beaten egg, and panko before deep frying them in oil that has heated to 340F.
Tools & Equipments
Ingredients
This post contains an affiliate link, which means this blog gets a small commission if you make a purchase using the link. That just goes toward maintaining this site and making more tasty things for our eyes and bellies.