Last week we visited some relatives and my cousin prepared this healthy Tomato Salad Bruschetta. I loved it so much that I immediately bought ingredients the next day so I can make it at home. I thought that today is a perfect time to share this recipe as it is a Meatless Monday. You see, my husband and I are trying to go meat-free one day each week. It's a win-win situation because it promotes not only a sustainable, healthy lifestyle for us, but also reduce our ecological footprint.
Simple ingredients are needed to make the tomato salad topping – fresh (roma) plum tomatoes, red onions, parsley, salt, and ground black pepper. Plum tomatoes are generally firmer and has lesser seed compartments, which is preferred for this recipe as we only need the flesh.
The thinly sliced baguette is spread with garlic butter, then toasted (on both sides) in a pan. Each slice is then scooped with some tomato salad, topped  with cheese, and then broiled in the oven for  about one to two minutes (keep an eye on it) – just to melt the cheese. The result? Each bite gives a combination of different textures – the crunch from the baguette, the fresh taste of the tomato salad, and the creaminess of melted cheese. And that is why I love this dish. 🙂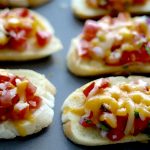 Print Recipe
Tomato Salad Bruschetta
Ingredients
2

pieces

plum

Roma tomatoes

1

piece

shallot or 1/4 of a small red onion

diced

2

tablespoons

fresh parsley

finely chopped

10

pieces

baguette slices

about 1/4 inch thick

2

tablespoons

garlic butter

3/4

cup

mixture of grated mozzarella and cheddar cheese

salt and pepper to taste
Instructions
To prepare the tomato salad, cut the tomatoes into quarters then remove the juice and seeds. Dice the remaining tomato flesh.

Combine the diced tomatoes and red onion/shallot, fresh parsley, salt, and pepper in a bowl. Mix well then set aside.

Thinly spread garlic butter on each baguette slice. You would not want to put too much butter as the bread will not crisp up. Toast both sides of the baguette slices in a pan until lightly browned.

Once toasted, scoop some tomato salad on each slice then top with grated cheese. Broil in the oven until cheese is melted, about 1 minute.