These deliciously golden cinnamon French toasts are truly a breakfast treat, but have you ever wondered if this dish really originated from France?
Was it from America?
There is a myth that French toast was actually invented in New York in the eighteenth century by an innkeeper named Joseph French. He named this dish after himself but simply forgot or did not know how to put an "s" with an apostrophe after his name.
Or from France?
In France, French toast is called "pain perdu" or "lost bread". French bread easily get stale and hard and is "lost" quickly, but French families had to consume them anyway. So to make it soft and easier to eat, their way was to soak the bread slices in a custard mixture before frying.
It's nice to know some bits of facts (or myth) about the food we eat, isn't it? But French or not, this Cinnamon French toast will surely brighten your day! I recommend drizzling it with real maple syrup and serve it with fruit slices or with something savory like breakfast sausages and bacon.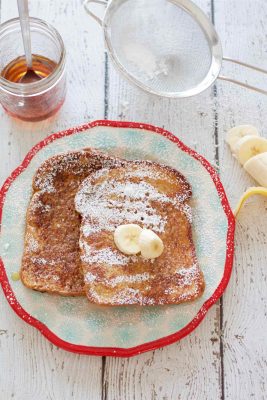 Cinnamon French Toast
Rise and shine for this delicious Cinnamon French Toast! Brown and crispy on the outside and creamy on the inside. The addition of flour brings the a nice crisp texture while cinnamon and vanilla gives a flavor boost.
Print Recipe
Ingredients
2

tablespoons

bleached all-purpose flour

1/2

cup

half and half

1

piece

large egg

1/4

teaspoon

ground cinnamon

1/2

teaspoon

vanilla extract

1

teaspoon

granulated white sugar

4

slices

loaf bread

thick slices

2-3

tablespoons

butter

pinch

of salt

maple syrup

(optional)

banana or any fruit you like
Instructions
To make the custard mixture, whisk together all purpose flour, half-and-half, egg, cinnamon, vanilla extract, sugar, and salt in a bowl until smooth.

Heat a frying pan on the stove over medium heat. Add about 1 tablespoon of butter into the pan. Soak (or dip if using thinner slices) each slice of bread in the mixture. Gently lift the bread so the excess custard will drip and carefully transfer in the pan.

After a few minutes, check to see if the bottom side of the French toast has turned golden brown. If it has, flip the French toast and continue cooking. Transfer to a plate and do the same procedure for the next batch.

Serve warm with maple syrup and banana slices.
Notes
(Note 1) For thinner bread slices or generic white sandwich bread, be careful not to soak too much as the bread will disintegrate.
(Note 2) Whisk the custard mixture before dipping another slice of bread because the cinnamon rises to the top and will disappear with your first few slices.