Rich and succulent! This baked fish is topped with parmesan, mayonnaise, and a blend of Italian herbs then baked in olive oil. Definitely, a must-try!
Before serving this dish be sure to squeeze some fresh lemon juice on top. It gives a zing and cuts the creaminess of the parmesan cheese mixture.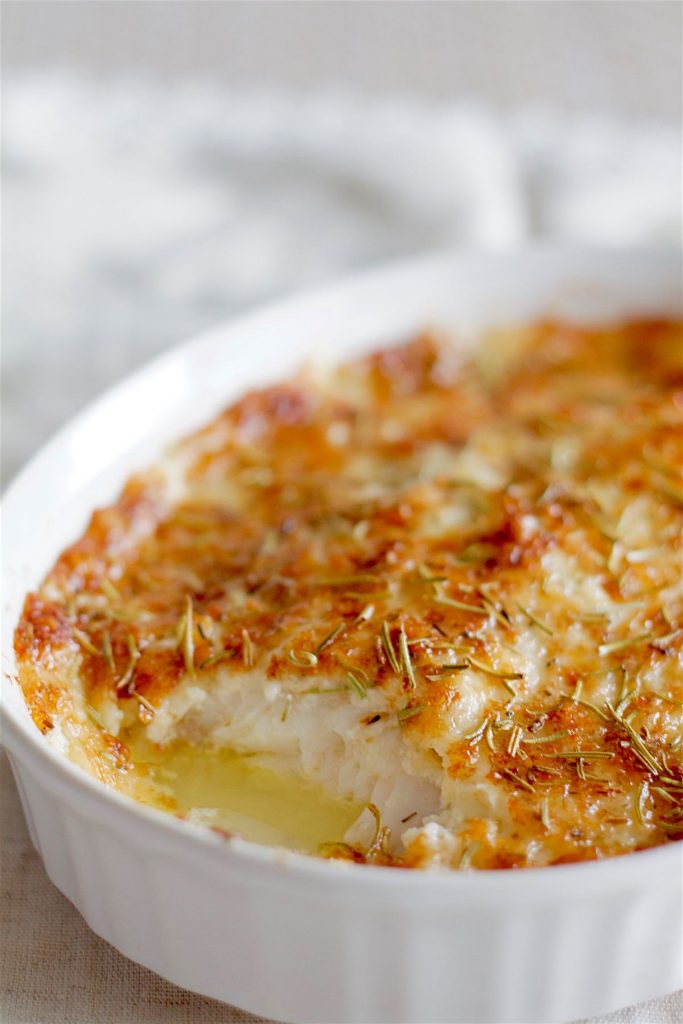 I love discovering "hidden" restaurants. Cookbook Kitchen was one of our gem finds in Mandaluyong city way back in 2008. I found out about this restaurant through a blog, and my ever-supportive then boyfriend now husband agreed to give it a try. The place was not easy to find as it is tucked inside a residential area. Hubby was really good with driving directions and rarely gets lost, but I remember we were traversing Shaw Boulevard because we couldn't find the place. If only we had Waze or Google maps at that time!
Once we found the place, it was literally a house turned into a restaurant. A part of the house was converted to a gym, which I found peculiar. But inside the restaurant, it was very cozy and felt like you were eating inside somebody's home.
Since then we kept coming back to Cookbook Kitchen and even recommended it to family and friends. The reason? It's because we got addicted to their Pork Steak with Honey Mustard Sauce and Parmesan Crusted White Fish – the best seller of the house. The fish is so tender and for me, the rich and succulent topping is the winner! I have always wondered how they made this topping. I initially thought it was like a bechamel or cream sauce, but I was wrong. I tried recreating this dish at home several times and finally found the secret ingredient – mayonnaise! Mayonnaise, when baked, gives a creamy taste and with the addition of olive oil, parmesan cheese, and lots of rosemary and thyme the outcome is YUMMY!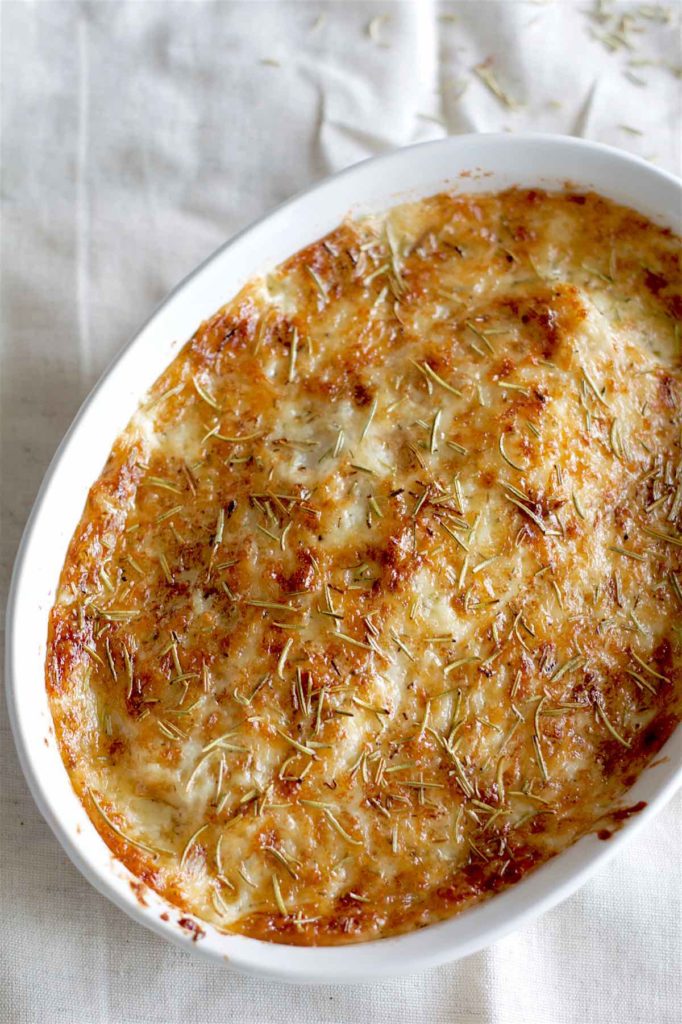 I was so glad we have "hacked" the recipe as that also meant savings for us. Usually, for 2 people, our bill was between 700 and 800 pesos – not exactly cheap for us young yuppies 10 years ago.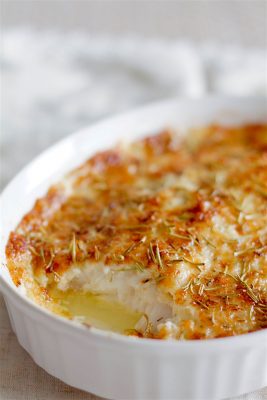 Parmesan Crusted White Fish
Rich and succulent! This baked fish is topped with parmesan, mayonnaise, and a blend of Italian herbs then baked in olive oil. This is a must try!
Print Recipe
Ingredients
2

pieces

Pangasius

cream dory fish fillets or any white, neutral tasting, flaky fish like basa

1

tablespoon

extra virgin olive oil

2/3

cup

mayonnaise

(Note 1)

1/4

cup

+ 2 tablespoons grated parmesan cheese

(Note 3)

1/2

teaspoon

dried thyme

1

teaspoon

dried rosemary

divided

1/2

slice

of a lemon

cut into wedges
Instructions
Preheat oven to 350 F (175 C).

Wash the (defrosted) Cream Dory fillets and pat dry with paper towels. Lay the fillets in a small shallow, baking dish – preferably oval shaped. Pour the olive oil and spread it on the fish. Bake it for 15-20 mins or until fish is flaky. Be careful not to overcook the fish.

While fish is baking, prepare the parmesan mixture. In a bowl, combine mayonnaise, parmesan cheese, thyme, and half of the rosemary. Mix them together.

When fish is cooked, take out the fish from the oven. If the fish has become watery, scoop out the excess water but try to leave the oil olive. Evenly spread the parmesan mixture on top then sprinkle the remaining half teaspoon of thyme on top. Return to oven and bake for another 10 mins.

Once the parmesan mixture has set, broil the fish for another 2-3 minutes to brown the top. (Note 2)

Squeeze a wedge of lemon on top. Serve hot with the remaining lemon wedges on the side.
Notes
(Note 1) Use real, full fat mayonnaise.
(Note 2) Keep the oven door ajar while broiling.
(Note 3) I used Kraft Parmesan Cheese .