This Korean beef stew recipe is one of our family's favorite. It's a flavorful stew with an irresistible sauce! Be sure to prepare lots of rice and bean sprouts for side dish..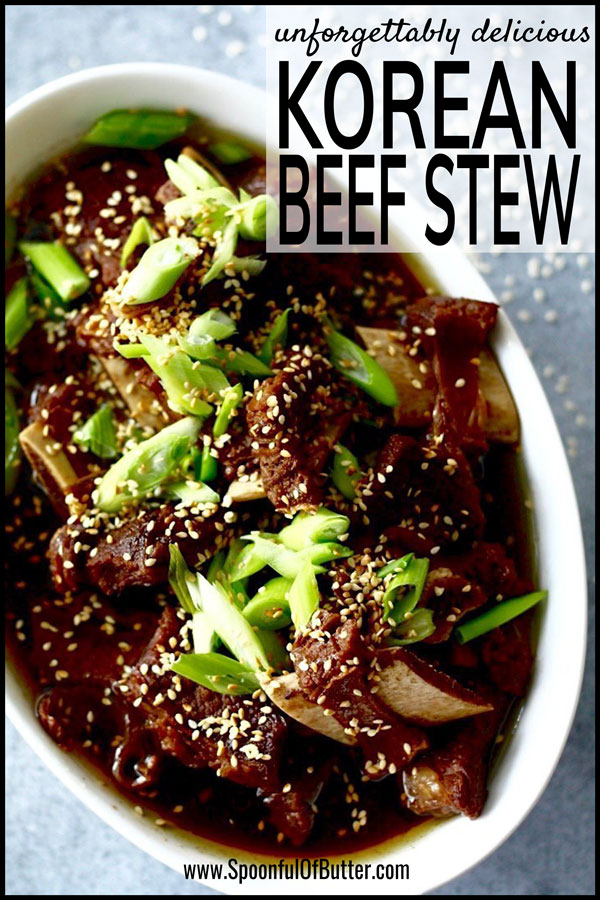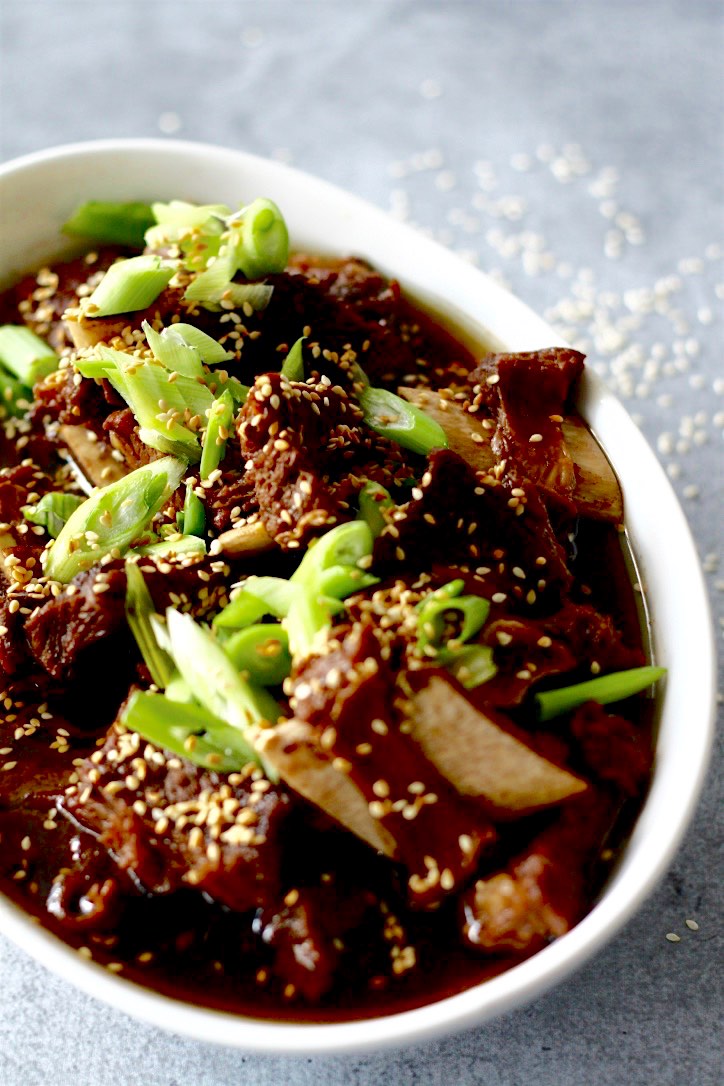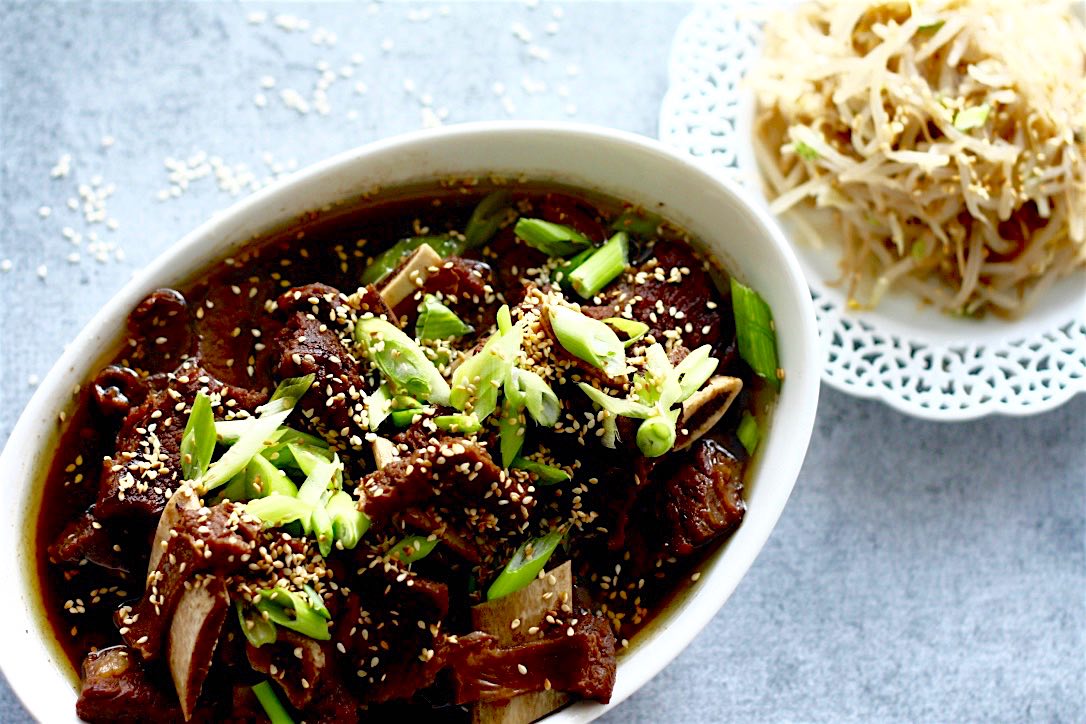 This Korean Beef Stew, inspired by Korean fast food restaurant back in Manila, is definitely a favorite in our house! An order of this stew always comes with bean sprout side dish. They are just perfect together because it balances the sweetness and adds a crunchy texture. I and my husband love this stew because the sweet sauce complements the fall-off-the-bone meat.

The first step in making this is to put the short ribs in a large pot together with water, garlic, whole onion, ginger, and salt. Make sure that all the meat pieces are immersed in water. Bring to a boil then reduce to medium heat and cook for 30-45 minutes, skimming off the scum on top. Next, strain the beef stock and reserve it for our braising liquid. Discard the garlic, onion, and ginger. Put back the meat in the pot then add the ingredients for the braising liquid – beef stock, soy sauce, and sugar. Cover, bring to a boil, then reduce to medium heat and continue to cook until beef is tender, about 1 to 1.5 hours. By that the time the short ribs have released their fats. Skim off the excess oil.

When the short ribs are tender, it is important to taste your sauce and adjust according to your liking. Add more sugar if you prefer it to be sweeter; add fish sauce or salt if you like to increase saltiness. Once you are good with the flavor, add the sesame oil, toasted sesame seeds, and sliced scallions. Serve this beef stew with Korean bean sprout side dish, kimchi, and lots of steam rice.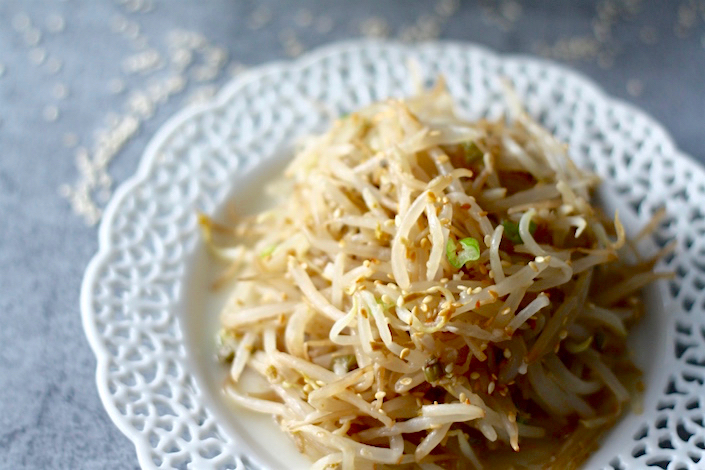 Korean Beef Stew (Galbi Jjim)
This Korean beef stew recipe is one of our family's favorite. It's a flavorful stew with an irresistible sauce! Be sure to prepare lots of rice and bean sprouts for side dish. #koreanfood #shortribs #beefstew"
Print Recipe
Ingredients
1

kilo beef short ribs

5

cups

water

1

piece

whole white onion

peeled

5

cloves

garlic

peeled

2

pieces

thumb-size ginger

peeled

1/4

teaspoon

fine salt

4

cups

beef stock

1/2

cup

soy sauce

1/3

cup

brown sugar

1

tablespoon

sesame oil

1

tablespoon

toasted sesame seeds

1/4

cup

scallions/ onion leeks

sliced
Instructions
Place short ribs in a large pot together with water, garlic, whole onion, ginger, and salt. Make sure that all the meat pieces are immersed in water. Add more if necessary. Bring to a boil then reduce to medium heat and cook for 30-45 minutes, skimming off the scum on top.

1 kilo beef short ribs

5 cups water

1 piece whole white onion

5 cloves garlic

2 pieces thumb-size ginger

1/4 teaspoon fine salt

Next, strain the beef stock and reserve it for our braising liquid. Discard the garlic, onion, and ginger.

Return the meat into the pot then add the ingredients for the braising liquid – beef stock, soy sauce, and brown sugar. Cover, bring to a boil, then reduce to medium heat and cook the beef until tender, about 1 to 1.5 hours. Skim off the excess oil or you can also drag a paper towel on top so it will absorb the oil.

4 cups beef stock

1/2 cup soy sauce

1/3 cup brown sugar

Taste your sauce and adjust according to your liking. Add more sugar if you prefer it to be sweeter; add fish sauce or salt if you like to increase saltiness.

Add the sesame oil, toasted sesame seeds, and sliced scallions. Serve hot with Korean bean sprouts, kimchi, and rice.

1 tablespoon sesame oil

1 tablespoon toasted sesame seeds

1/4 cup scallions/ onion leeks