So, you remember that basic French crepe recipe a couple of weeks ago? It's time to make use of it!
You can never go wrong with the combination of flavors in these Nutella-Banana Crepes. Each bite gives you the sweetness of Nutella paired with whipped cream and banana slices, and the crunchy texture of the nuts.
I could not remember anymore when I first tried a dessert crepe, but I would never forget how my then boyfriend (now husband), and I ate so much of these during college. If you were a Thomasian, you would know that there were lots of hole in the wall restaurants along Dapitan street. Esquinita is one of them and they used to sell a huge serving of mango crepe – stuffed with lots of mangoes, cream, and condensed milk. Our usual date routine was to eat at Almer's (2 orders of pork sisig with egg and 4 cups of rice, please!) then go to Esquinita for dessert. You can definitely say that was start of our road to being overweight. 😉
I realized later on that those crepes were far from the authentic French crepes that I have tried in Paris but still, they were really good and not to mention very affordable. Unfortunately, they closed down even before we finished college.
If you are not a crepe person, try this simple recipe and you're gonna like it for sure!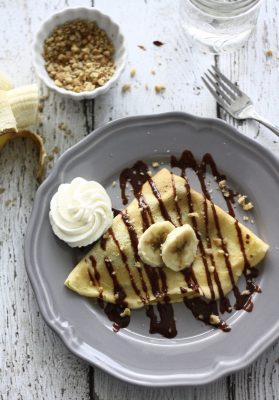 Nutella-Banana Crepes
Print Recipe
Ingredients
For the Filling:
2

pieces

Basic French Crepes

2

tablespoons

Nutella

1

piece

ripe banana

thinly sliced

2

tablespoons

chopped unsalted and toasted nuts or almond flakes
For the Whipped Cream:
1/2

cup

cold heavy cream

1

tablespoon

icing/confectioners sugar
For the Nutella Chocolate Syrup:
1

tablespoon

nutella

1

teaspoon

fresh milk
Instructions
Make the whipped cream. Combine heavy cream and icing/confectioners sugar. Whip until stiff then set aside.

Make the Nutella chocolate syrup. Thin the nutella by adding milk and mix until consistency is pourable.

To assemble the Nutella-Banana crepe, take one warm crepe and spread 1 tablespoon of Nutella on it. Add half of the banana slices.

Fold the bottom half of the crepe over to make a half circle and then fold in half again to form a triangle.

Drizzle with Nutella chocolate syrup on top, pipe some whipped cream on the side, and finish of with a sprinkle of nuts or almond flakes.

Repeat steps 3 to 6 for the remaining crepe.