Enoki mushrooms are small, thin-stemmed mushrooms with tiny caps. Commonly found in east Asian cuisines, they are relatively soft and has a mild earthy taste. I found a nice bunch of these at the Asian grocery store and thought of wrapping them in meat. I was originally eyeing for sukiyaki cut beef, but since there's none in the grocery I decided to use bacon instead.
Enoki mushrooms tend to wilt and shrink once they are cooked, so don't scrimp on the amount of mushrooms that you are going to wrap with each bacon slice. I also suggest using regular bacon (not the maple flavored ones) as the sauce is bit sweet.
To make the special sauce, simply put together butter, brown sugar, soy sauce, garlic powder, and pepper in a saucepan and bring to a boil over medium heat. You don't need to wait until all the sugar crystals are fully dissolved because we are still going to continue cooking the mixture in the oven. Pour the special sauce over the bacon wrapped enoki mushrooms then bake in the oven at 400 F until the bacon is fully cooked, around 20 minutes.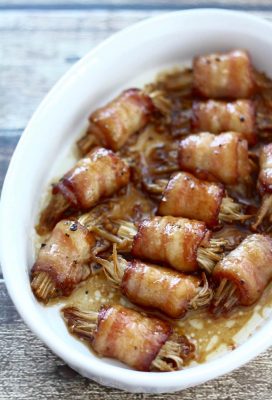 Bacon-Wrapped Enoki Mushrooms
Bite-size bacon wrapped enoki mushrooms are baked with a special sauce. Great as an appetizer and a side dish!
Print Recipe
Ingredients
12

slices

regular bacon

(not the flavored ones)

1

pack

about 250 grams enoki mushrooms

1/4

cup

brown sugar

1/4

cup

unsalted butter

1/2

tablespoon

soy sauce

1/4

teaspoon

garlic powder

1/4

teaspoon

ground pepper
Instructions
Preheat oven at 400 F (200 C).

Divide the enoki mushrooms into 12 bundles. Do not scrimp on the amount of mushrooms as they wilt and shrink once cooked. Wrap a piece of bacon around each bundle and lay them in a shallow baking dish.

In a small saucepan, combine brown sugar, butter, soy sauce, garlic powder and freshly ground black pepper. Allow the mixture to boil over medium heat, stirring once or twice just to ensure that the ingredients are mixed evenly. It is not necessary wait for the sugar to dissolve.

Pour the mixture over the bacon wrapped enoki mushrooms, making sure that each piece has been coated with sauce. Bake until bacon is fully cooked and sauce has been reduced, about 20-25 minutes.