February is fast approaching so I thought of sharing a treat that is so simple – anyone can make for everyone this Valentine's day. These Chocolate Ganache Hearts are made of moist chocolate cake wrapped in dark chocolate ganache. This treat is rich and decadent so it is perfect to be served in small portions. Of course, it has to be in a heart shape!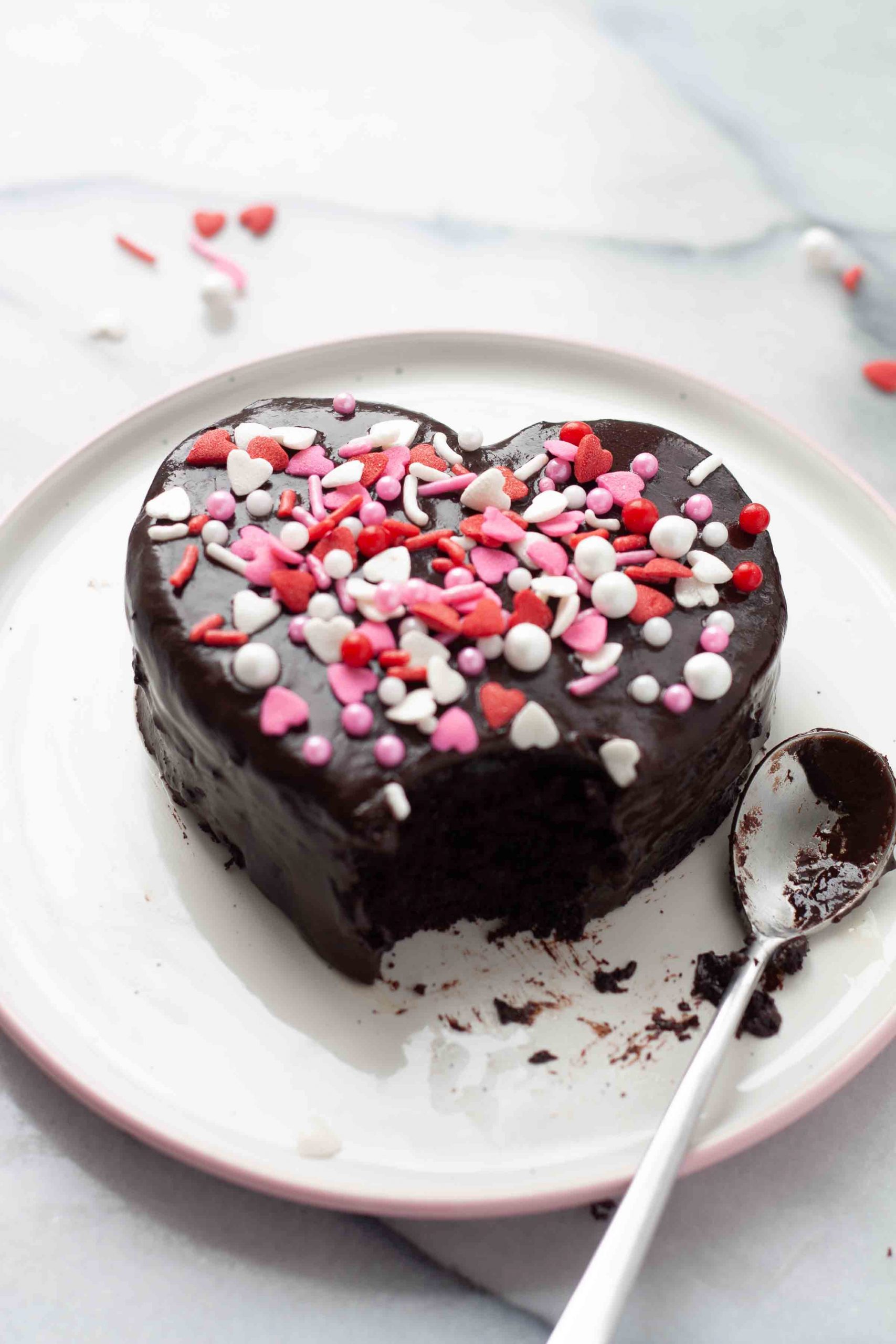 ❤️ Do I need a special heart pan to make this?
I already have a lot of baking pans in my kitchen and I don't want to buy another pan which I would only use occasionally. What I did was I baked the cake in an 8×8 inch square pan and just bought a heart-shaped cookie cutter which cost me less than two dollars. Aside from being cheaper than a baking pan, it occupies a small space in my kitchen drawers. I also know that I would be able to use it for many other things like shaping pastries, pie doughs, fondant, and pancakes!
? What is Chocolate Ganache?
Ganache is a smooth and shiny mixture of chocolate and cream used in cakes, desserts, and pastries. I usually use 60-70% dark chocolate but milk chocolate, white chocolate, or a combination of milk and dark are okay too.
❓ What can I substitute for corn syrup?
I added a bit of corn syrup to balance the bitterness from the dark chocolate and to add some shine. If you can't find corn syrup, you can add about one and a half teaspoon of sugar in the cream.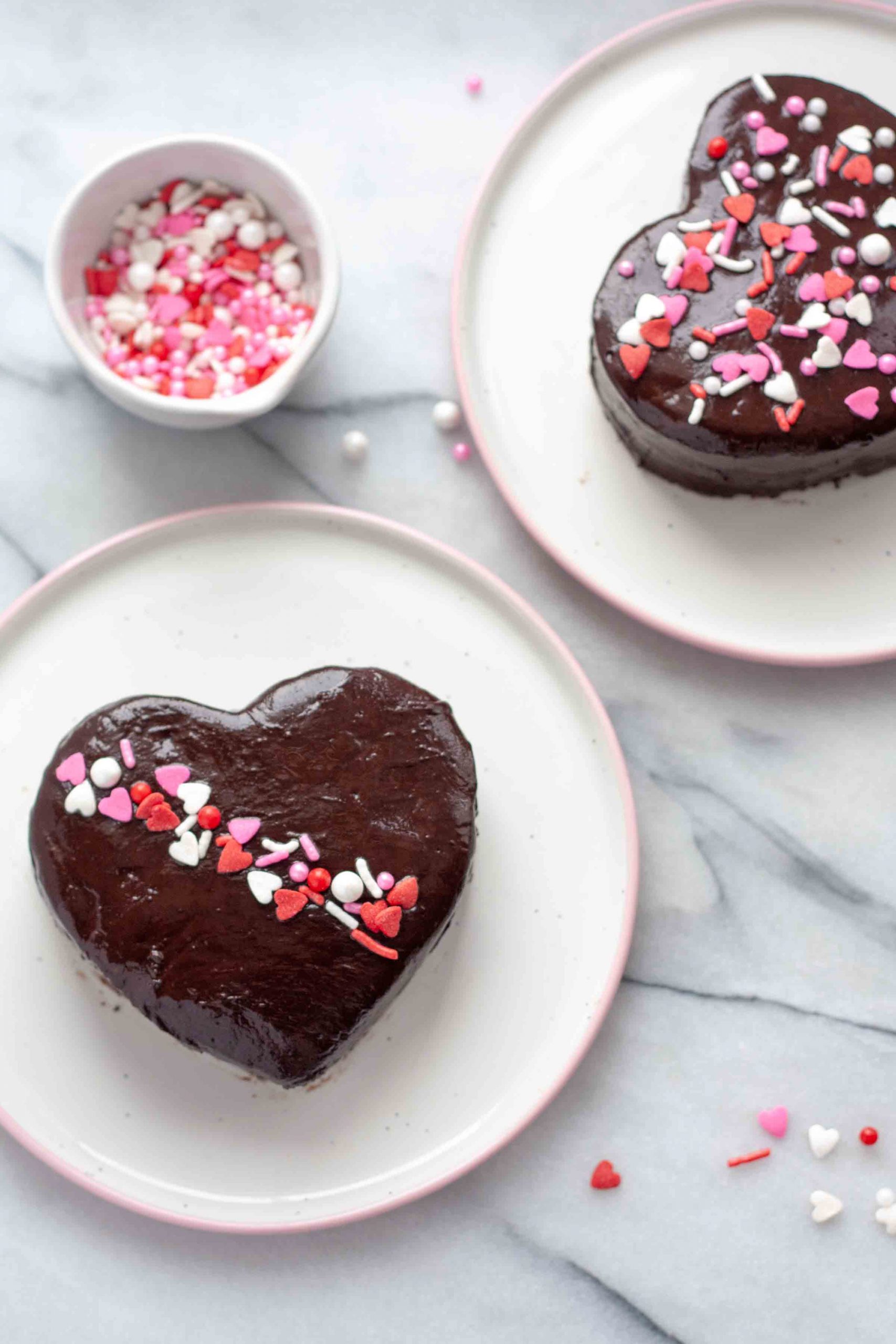 ⁉️ How to Fix Broken, Split, or Oily Ganache…
For this recipe what we want to achieve is a smooth and shiny ganache which is ideal for covering the chocolate cake. My ganache didn't turn out quite well (it split and was oily!) the first try but thankfully I was able to save it.
Ganache has only two main ingredients but different things may go wrong. So, here are some few tips when making ganache:
Never let the cream come to a boil. Bring it only to a simmer. If the cream is too hot, it will overheat the fat in the chocolate causing it to split. I recommend heating the chocolate gently in a stovetop rather than in a microwave so you have more control.
Do not let the chocolate overheat. Similar to the cream, overheating it will cause the fat to separate. Chop your chocolate into small pieces so it would be easier to melt in the hot cream.
If your ganache still breaks, here's the fix that I did: Simmer about 1/4 cup of milk. In a separate saucepan, place the ganache and put it on the stove at the lowest heat setting. Pour a bit of the milk while constantly whisking with a balloon whisk. Slowly add more milk (in small quantities) until the ganache has smoothened again.
? The fun part: pimp up your cakes
The last step involves making your hearts extra pretty. There are many ways to decorate these ganache hearts: edible flower petals, shavings of white chocolate, store-bought gumpaste flowers, or an "I love you" message written on top. I used sprinkles in shades of red, pink, and white. Sprinkle them in any way you like.
These are a great project to do with kids too. Let them be creative in designing their own hearts. The tiny hand in this photo belongs to my eldest daughter. =)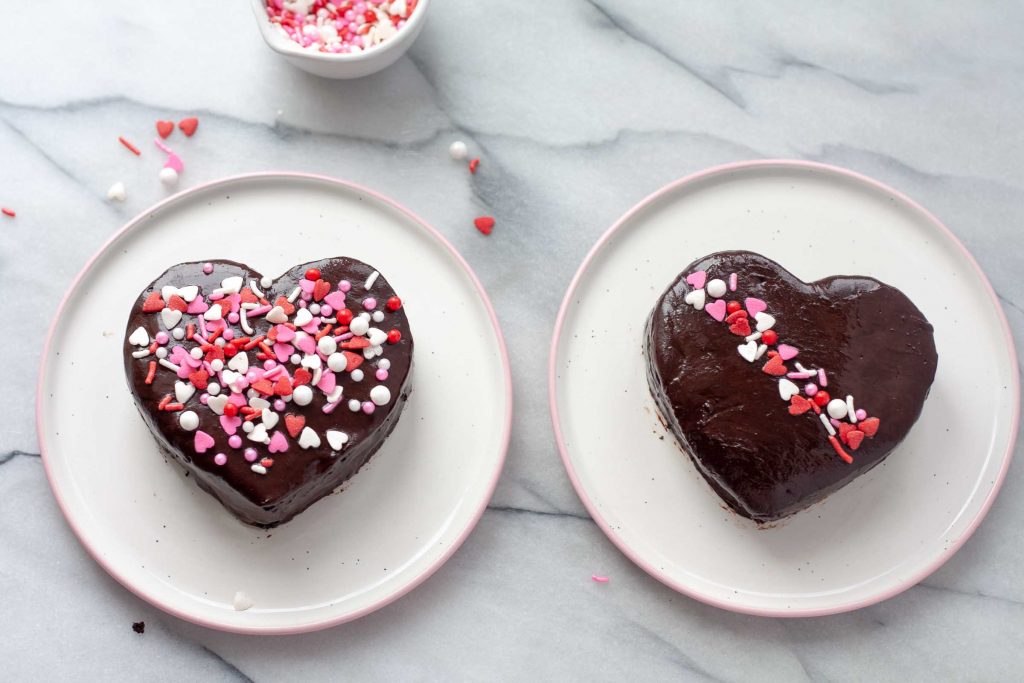 ? Other Valentine-inspired treats
Chocolate Cupcakes with Whipped Caramel Frosting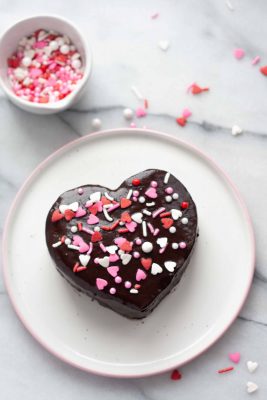 Decadent Chocolate Ganache Hearts
Servings:
4
heart-shaped cakes
Easy Valentine Cake Idea!! These mini chocolate cakes may look and sound fancy, but anyone can make this easy recipe. Add your own special decorations and they make a perfect gift! #ganache #valentine #chocolate
Print Recipe
Ingredients
Chocolate Cake
113

grams

unsalted butter

170

grams

granulated white sugar

2

pieces

large eggs

60

grams

dutch-processed cocoa

235

grams

hot

boiled water

170

grams

all-purpose flour

1

teaspoon

baking soda

1/4

teaspoon

baking powder

1/2

teaspoon

fine salt
Ganache:
300

grams

dark chocolate

at least 60% cocoa (chopped into small pieces)

150

ml

heavy cream

1 1/2

tablespoons

light corn syrup
Decorations
sprinkles

edible flower petals, gumpaste flowers, etc.
Instructions
Make the Chocolate Cake
Preheat oven to 350 F. Line the bottom and sides of an 8x8 inch square pan with parchment paper. Let the parchment paper hang on 2 opposite sides of the pan so you can easily lift the cake out of the pan later on.

Sift the flour, baking powder, baking soda, and salt in a medium bowl and whisk.

Put the cocoa powder and hot (boiled) water in a medium heatproof bowl. Whisk until completely smooth then set aside to cool slightly.

In the bowl of a stand mixer fitted with paddle attachment, beat the butter and sugar on medium speed until light and fluffy, about 8 minutes.

Add the eggs, one at a time, beating until each addition is incorporated before adding the next. Scrape the sides of the bowl with a rubber spatula when necessary.

Add the flour mixture in four parts, alternating with the cocoa mixture in three parts. Beat until each addition is incorporated before adding the next. Be careful not to overmix.

Pour the batter into the prepared pan and bake until a toothpick inserted in the center comes out clean, about 25 minutes.

Transfer to a wire rack and let cool completely before removing from the pan.
Make the Ganache
Bring cream and corn syrup to a simmer over medium heat. Once simmering, remove from the heat. Add the chopped chocolate to the cream, lightly stir and leave to stand for 1 minute so that the chocolate can melt. Stir until smooth and glossy.
Assembly
Using a heart-shaped cookie cutter, cut 4 hearts from the chocolate cake.

Place the heart cakes on a wire rack over a baking sheet. Beat the ganache briefly before pouring it over the cakes. Lightly smooth and spread the ganache over the top and sides of the cake with an offset spatula/ palette knife.

Decorate the top with sprinkles then leave to stand at room temperature until set before serving.