Chocolate and Valentine's Day are mated for life. So for this coming day of indulge yourself and your special people with this moist and fluffy valentine chocolate cupcakes topped with dollops of delicious caramel ganache. I whipped the caramel ganache with mascarpone (you can also use cream cheese) to balance out the sweetness, then added these adorable and fun to make heart toppers. How cute is that!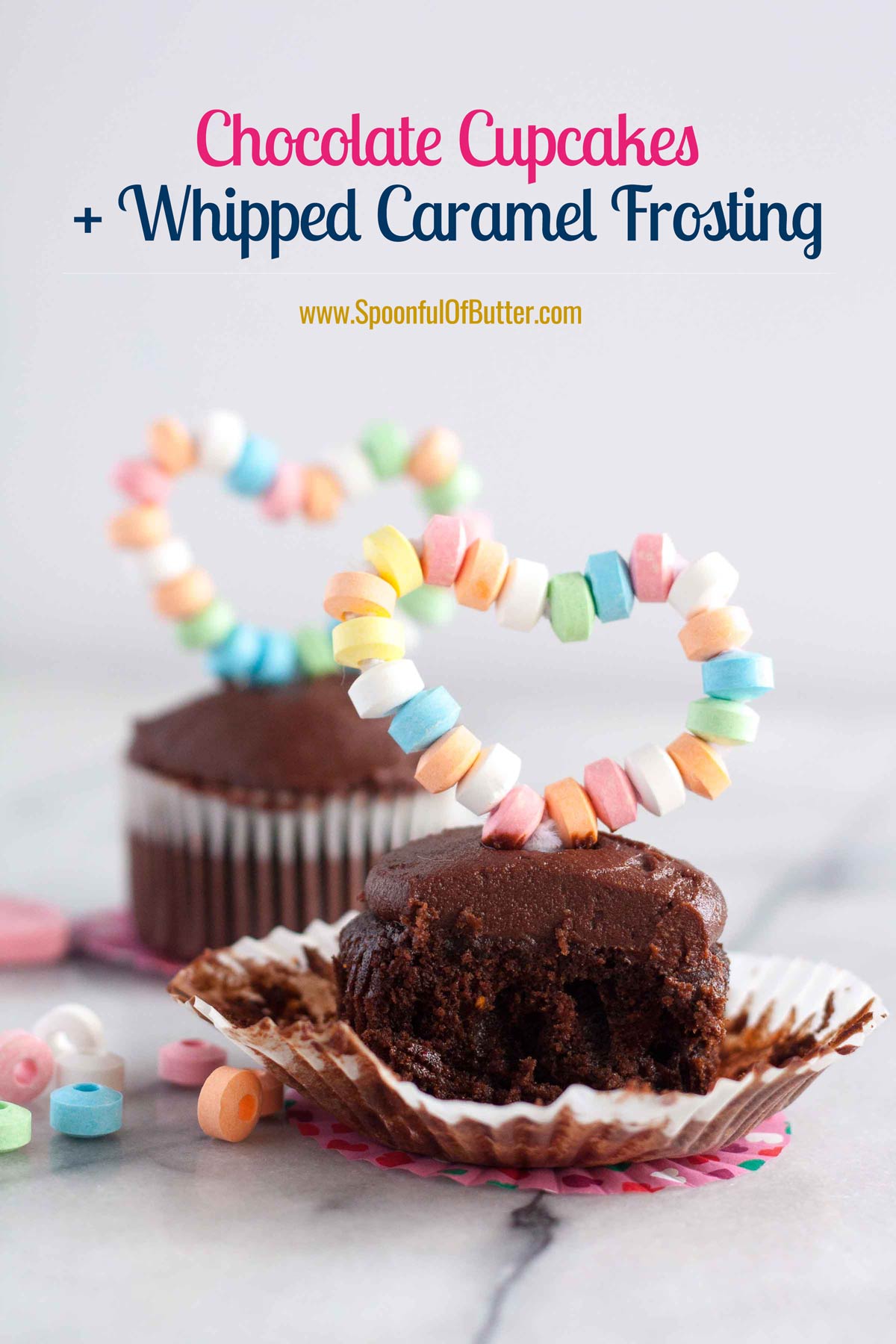 Did you know that fifty-eight million pounds of chocolate are being bought during Valentine's day week? Since giving and receiving chocolate and hearts have become one of the most popular ways to commemorate the day of love, I decided to create a cupcake along the same lines.
These valentine chocolate cupcakes are moist and tender, topped with rich and indulgent caramel ganache. There's coffee in the cupcake recipe but don't worry your cake will not taste like coffee; it will just enhance the chocolate flavor. The frosting is made by preparing a caramel base first, then adding dark chocolate and butter to make a ganache. I like my frosting to be less sweet, so I mix the ganache with mascarpone. This step is optional; you can actually use the caramel ganache as it is, but you should try it and see which one you like better!
[the_ad_placement id="insidecontent1″]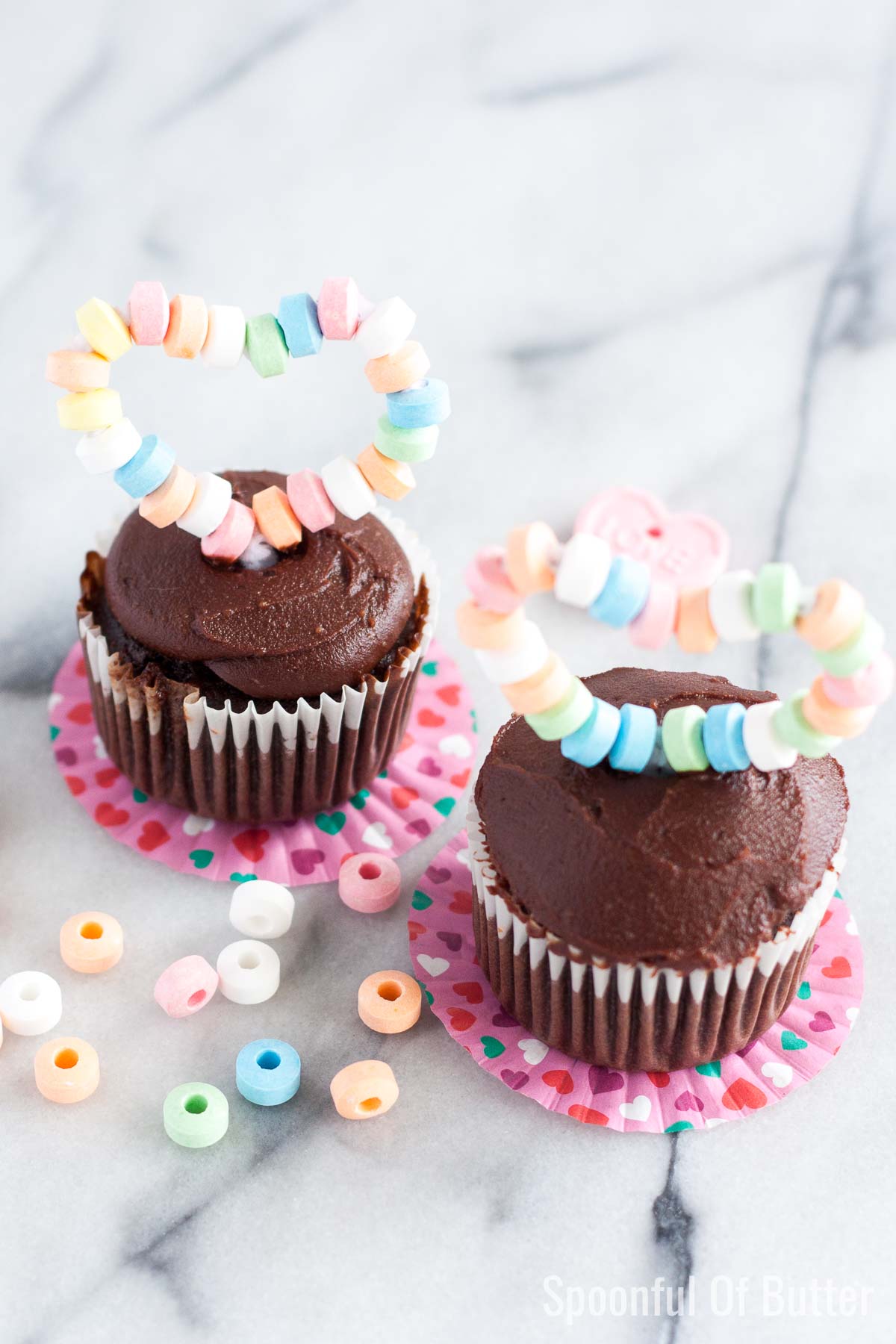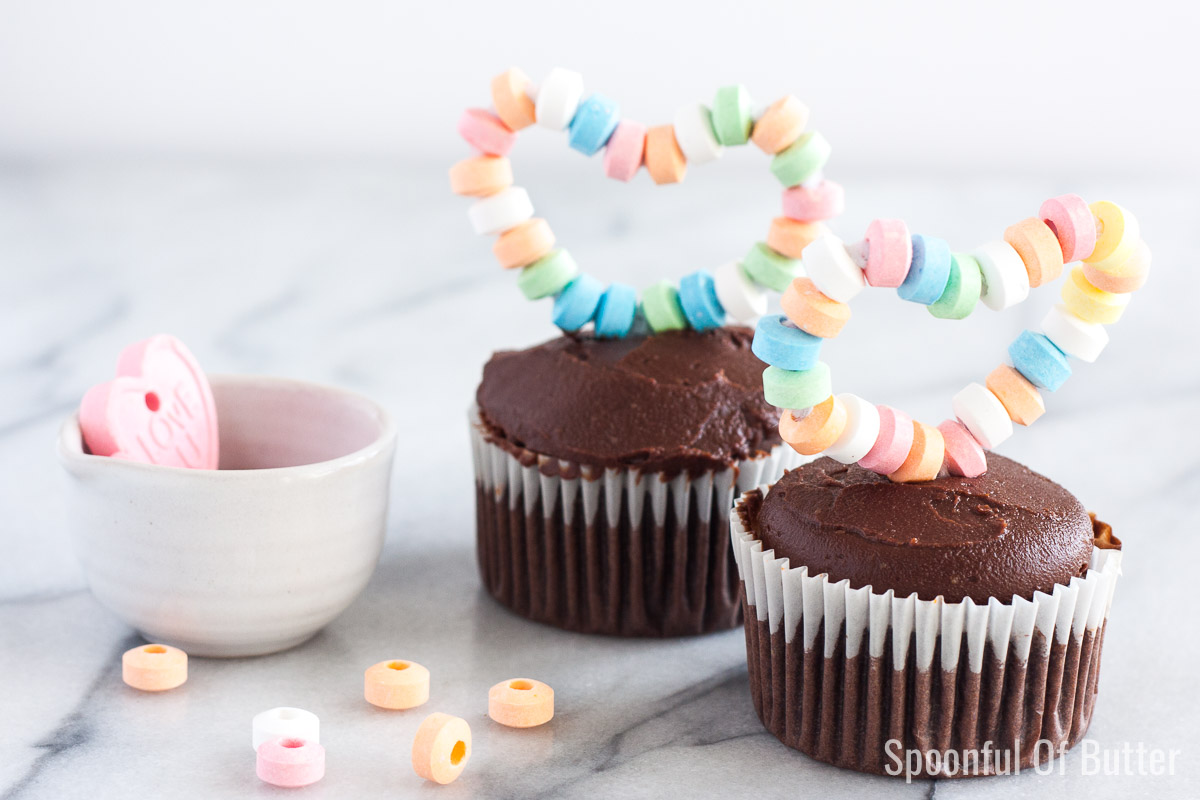 How to make the heart topper
Let's talk about this cute topper. I am actually not a crafty person, but I'll try to explain it as clearly as I can. 😉 I guess having a school-aged child also makes you familiar with crafty things, like these pipe cleaners. They are usually made of polyester and are available in many different colors. They can be used like a twist tie – twist and bend them to any shape you like. Having said that, simply form your pipe cleaner into a heart shape then put some holed candies one by one. I found these candies from the dollar store. If you don't have one in your area, use fruit loops instead. Actually, fruit loops are lighter in weight so those might be better to use, especially if you're planning to make bigger sized hearts. Once you've put in the candies, do a final reshaping of the heart (it doesn't have to be perfect) then twist the ends together.
Next, we need to make the pipe cleaners food safe and a regular driking straw is going to help us do that. Place the twisted ends of the pipe cleaner inside a straw, then trim the length of the straw so that it is about half of your cupcake's height. Insert the straw in the middle of the cupcake and slowly push it down. The straw should not touch the base of the cupcake. Cover the top of the straw with frosting, if necessary. Here's a helpful video to give you an idea on how to use straws to make flowers and for this case, pipe cleaners, food safe.
[the_ad_placement id="insidecontent2″]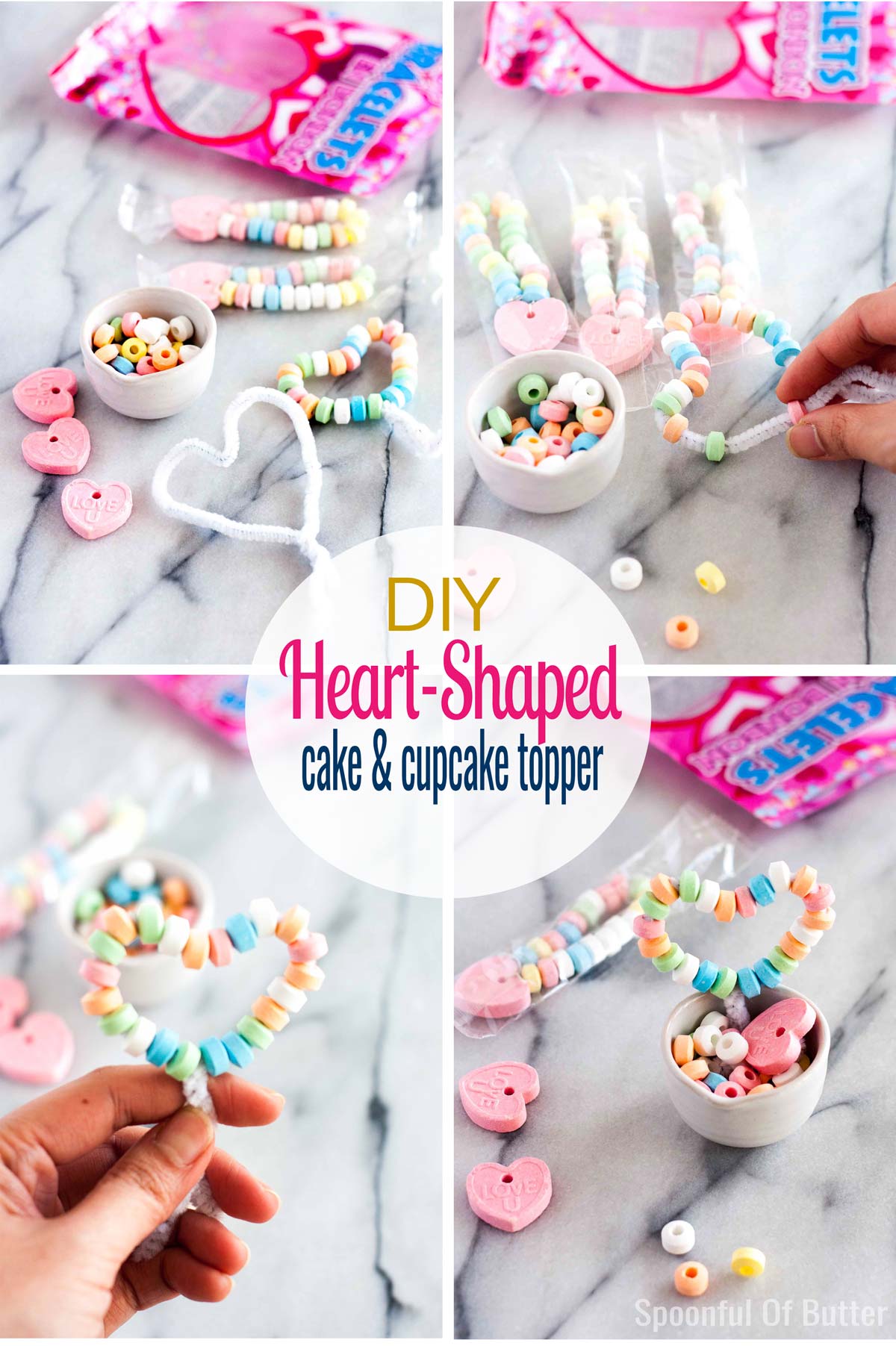 baker's notes for success
Sift the dry ingredients twice. Don't skip this step! Sifting spreads out the flour and breaks up any lumps that can weigh down the batter, resulting to a more tender crumb.
Room temperature ingredients are important, especially the butter, mascarpone and cream cheese! They tend to curdle if you use them cold.
[the_ad_placement id="insidecontent3″]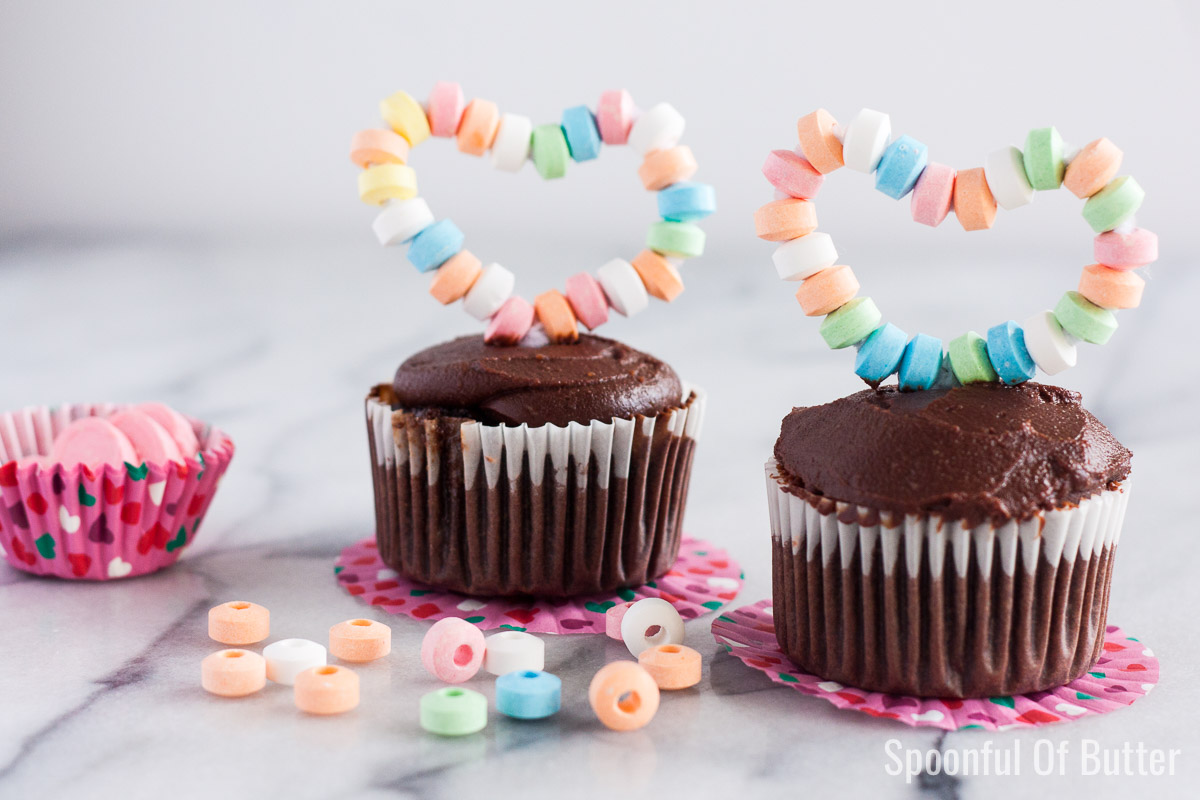 * Recipe Adapted from Passion For Baking.