Learning how to make pastry cream is an essential skill in a baker's kitchen. This rich, creamy custard is an important component for many desserts. It will open up a whole new world of baking possibilities – eclairs, cream puffs, doughnuts, cakes, crepe cakes, and many other pastries!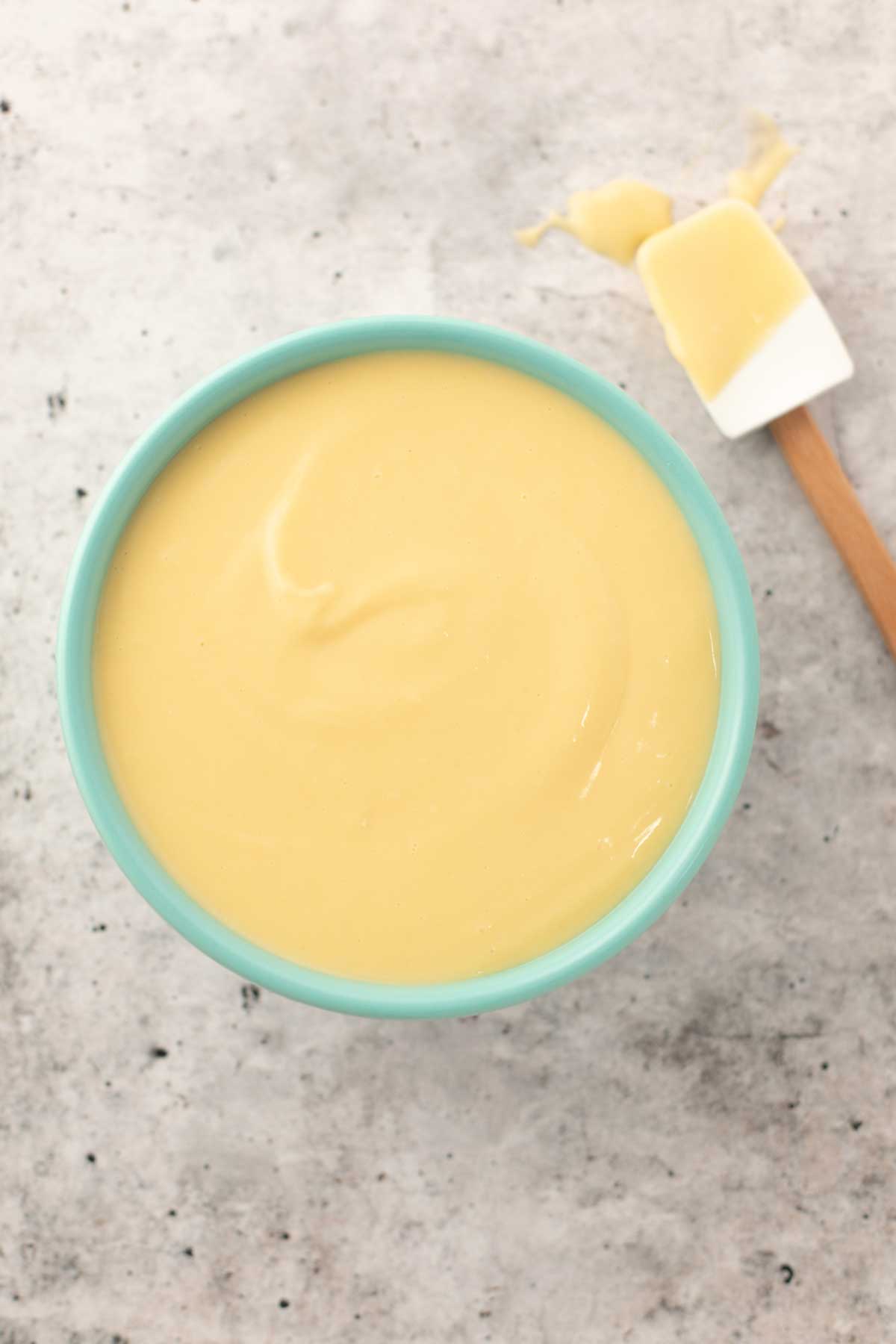 The very versatile pastry cream
Also known as Cream Patissiere, pastry cream is a staple in the French pastry kitchen due to its versatility. It is one of the first techniques taught to us in Pastry School.
The basic recipe of pastry cream is always made from a mixture of milk, eggs, sugar, and flour. Once you know the method and proper technique on how to make it, there are numerous things you can use it for.
Pastry cream is similar to a custard in that you cook it on the stove and must be stirred constantly to ensure that the eggs will not curdle, resulting in small pieces of scrambled egg in the cream. That is why it is also best to strain the mixture through a fine mesh sieve to ensure that there are no bits and lumps.
When do I use pastry cream?
Though you can definitely eat spoonfuls of this delicious pastry cream, it is meant to be a base or as a filling:
Stuff cream puffs, profiteroles and eclairs
Use as a filling between cake layers (think Boston Cream Cake)
Use as a filling for tarts
Make impressive crepe cakes, with layers filled with lightened up pastry cream
Filling between mille feuille layers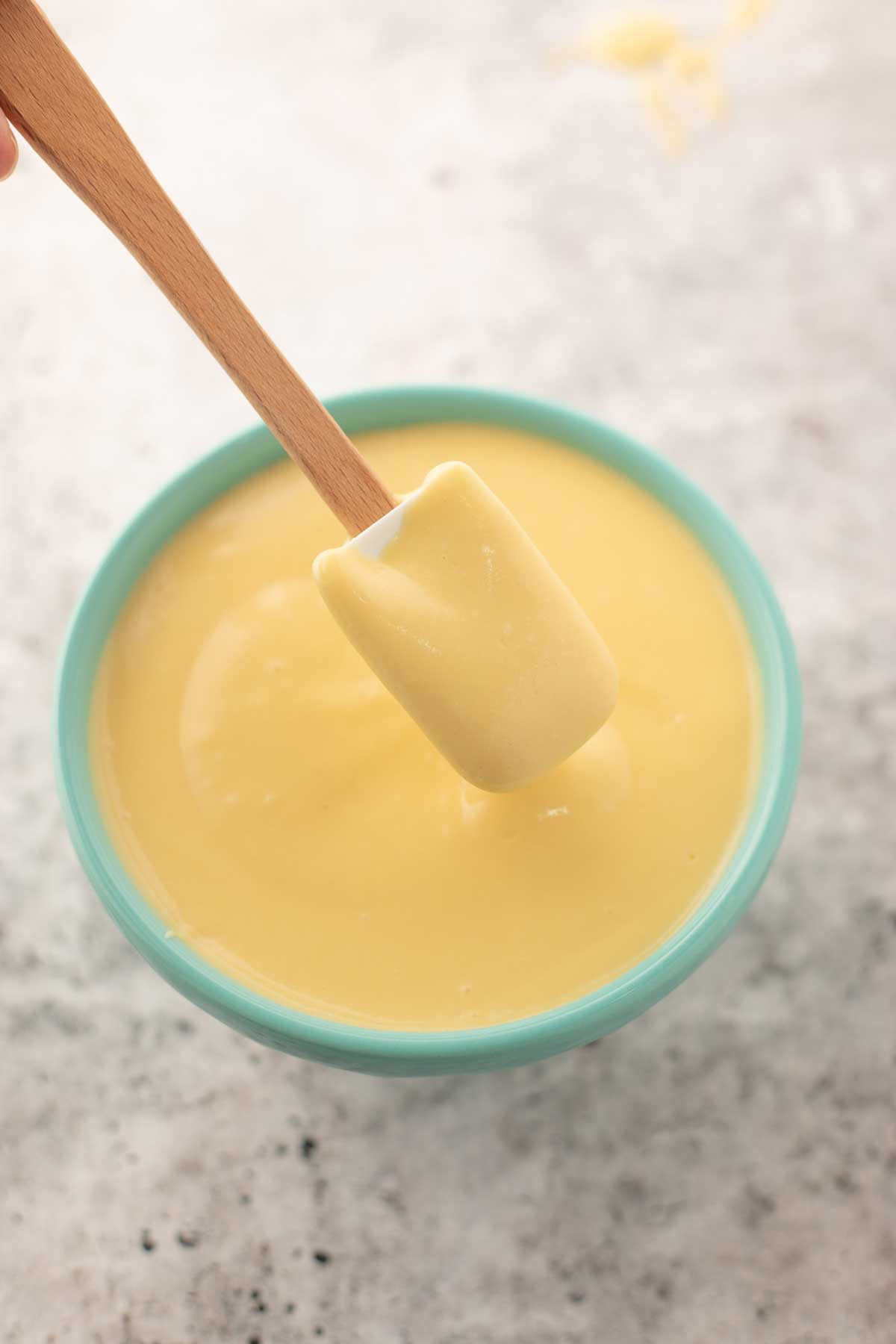 A great vehicle for flavor
Aside from it's creaminess and amazing richness, pastry cream is also a great vehicle for flavor – you can easily make variations by adding flavorings. Vanilla seems to be the most popular, but here are some pastry cream variations:
Chocolate Pastry Cream : Add 100 grams of chopped semisweet or bittersweet chocolate
Butterscotch Pastry Cream: Add 100 grams of butterscotch chips
Lemon Pastry Cream: Add 1 to 2 cups of lemon curd
Peanut Butter Pastry Cream: Add 1/2 cup (135g) smooth peanut butter, not the natural ones with oil that floats on top.
Add these flavorings to the hot pastry cream (see step 5 on the recipe procedure below), stirring until melted and the mixture is smooth.
TIP: Adjust the ratio of your flavoring ingredient (e.g. chocolate, lemon curd) to taste.
Since milk is used to make pastry cream, you can also try to infuse the milk with herbs such as lavender and thyme!
Lightened Pastry Cream
One of my favorite ways to use pastry cream is to use it as a filling for my crepes and cream puffs. However, pastry cream is rich and thick so it needs a light and fluffy lift. I lightened it up by whipping 400ml of heavy cream to soft peaks before folding it into 500g (or 1 batch of this recipe) of pastry cream.
Check out this mille crepe cake where I used lightened pastry cream.
How to store pastry cream?
You can refrigerate the pastry cream up to 5 days. Keep in an air-tight container and be sure plastic wrap is touching the top of the cream to prevent a skin from forming. Whip it before using to get rid of lumps.
FAQs
Can I freeze pastry cream?
No, freezing is not recommended. They will start to separate once thawed.
Can I make a half-batch?
Yes, simply divide all the ingredients in half and follow the same procedure.
How long can I make pastry cream ahead of time?
Pastry cream stays good for up to 5 days in the fridge. After that, it may start to weep.
My pastry cream is runny. What went wrong?
A thin, soupy pastry cream means that the custard was not cooked long enough for it to thicken. Make sure to cook it until big bubbles form (refer to photo on step 4).
My pastry cream is too thick or paste-like
Assuming you have measured your thickener (the flour) correctly, you may have overcooked your pastry cream. They quickly go from a soupy mixture to a thick texture so never walk away from the stove while you're making it. It is also very important that all your ingredients and equipment (refer to step 1) are all ready – the custard will be overcooked by the time you're done grabbing your strainer and bowl from your cupboards.

What kind of vanilla is best to use for vanilla pastry cream?
Since vanilla is the key flavor for this recipe, use the best pure vanilla extract (never use imitation) you can afford. I also prefer using vanilla bean paste or vanilla beans – the the vanilla bean flecks add a sophisticated look!
My pastry cream is lumpy after refrigerating it?
Get rid of the lumps by simply whisking it again.
Can I use cornstarch instead of flour?
Some recipes use cornstarch as the thickening agent to make it gluten-free. However, I have not personally made this using cornstarch so I am unable to provide the right quantity of cornstarch to replace flour in this recipe.
Do you have the measurements in cups?
All baking recipes in this site have been developed using weight measurements. I am not posting cup equivalents as I have not tested making this recipe in that method. Cups are not only inconsistent, their volume equivalents vary worldwide! Having precise measurements allows for consistently amazing desserts. Baking is all about science isn't it? A kitchen scale is an amazing investment if you are serious about baking and I cannot recommend it enough.
Recipe Overview
One batch of this recipe makes about 500g or 2 cups of pastry cream.
| Active Time: | Baking | Resting |
| --- | --- | --- |
| 20 mins | 0 min | 0 min |
Utensils: medium saucepan, whisk, spatula, medium mixing bowls, strainer, plastic wrap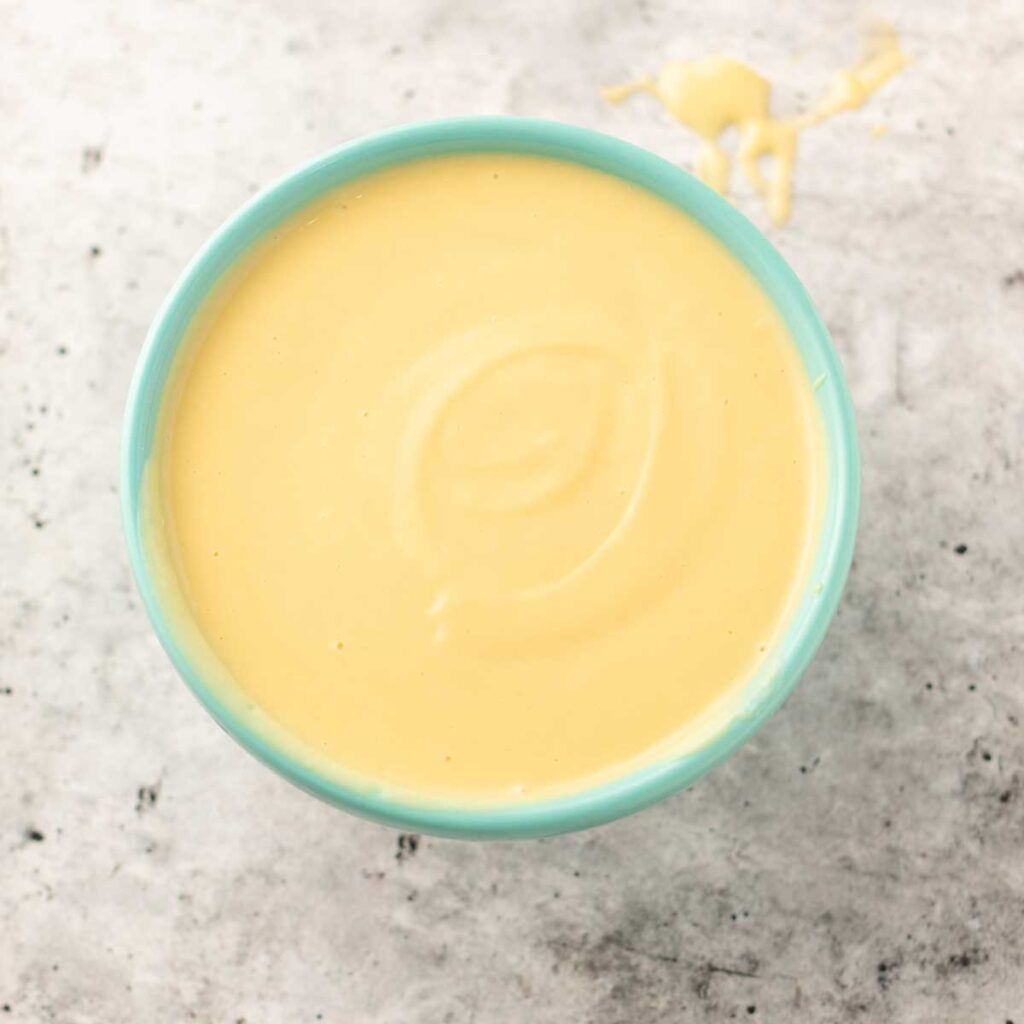 Ingredients
To make pastry cream, you would need:
500g milk, full-fat/ whole milk (You can also use 2% milk but the outcome won't be as rich.)
20g unsalted butter (straight from the fridge is fine)
120g granulated white sugar (You can add more if you want it sweeter.)
100g egg yolks (from about 5-6 large eggs)
40g all-purpose flour
1/2 teaspoon pure vanilla extract/ vanilla paste or 1/2 vanilla bean pod (Preferably, use vanilla bean paste or fresh vanilla pods – the flecks would add an elegant look to your pastry cream!)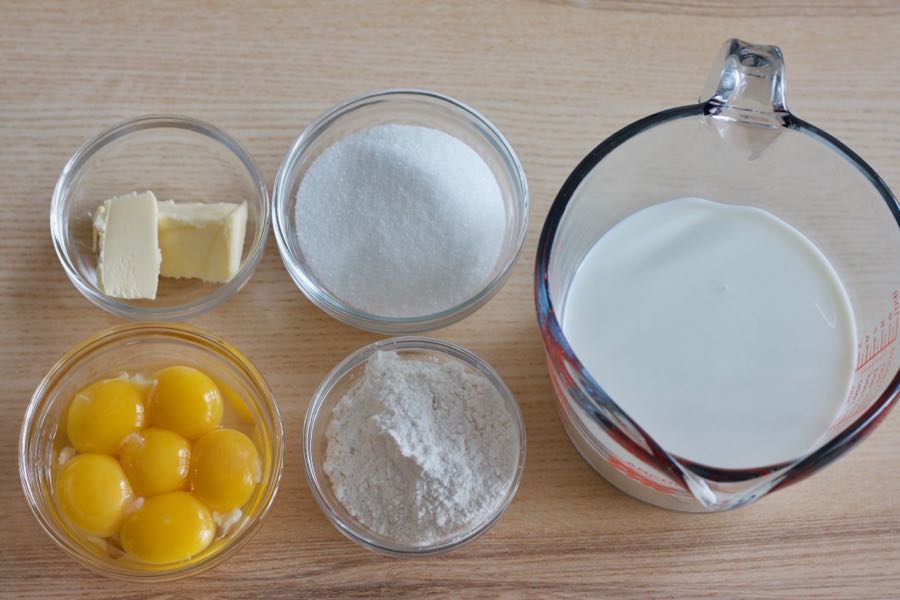 How to make pastry cream
Step 1: Heat the milk mixture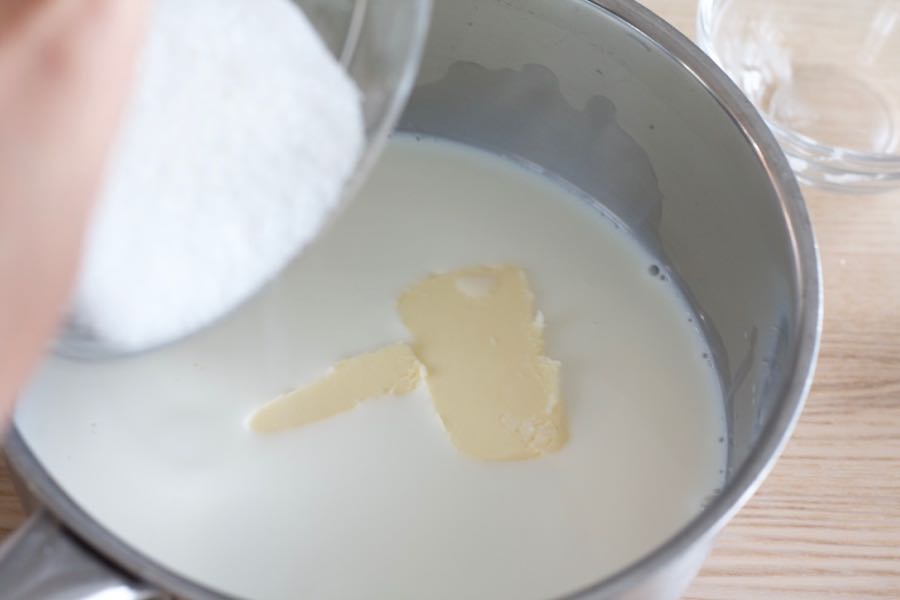 In a medium saucepan, combine 500g milk, 20g butter, and 1/4 of the sugar (just eyeball it). If using a fresh vanilla bean, infuse the milk by scraping out the seeds and adding them into the saucepan. If using vanilla extract, you will add them later at step 4.
Set the milk mixture over medium heat and bring to a simmer.
TIP: At this point, it is a good idea to set a strainer over a bowl and place it near the stove. You will not use this until step 5 but the egg yolks cooks pretty quickly so it is important to have this ready.
---
Step 2: Make the egg mixture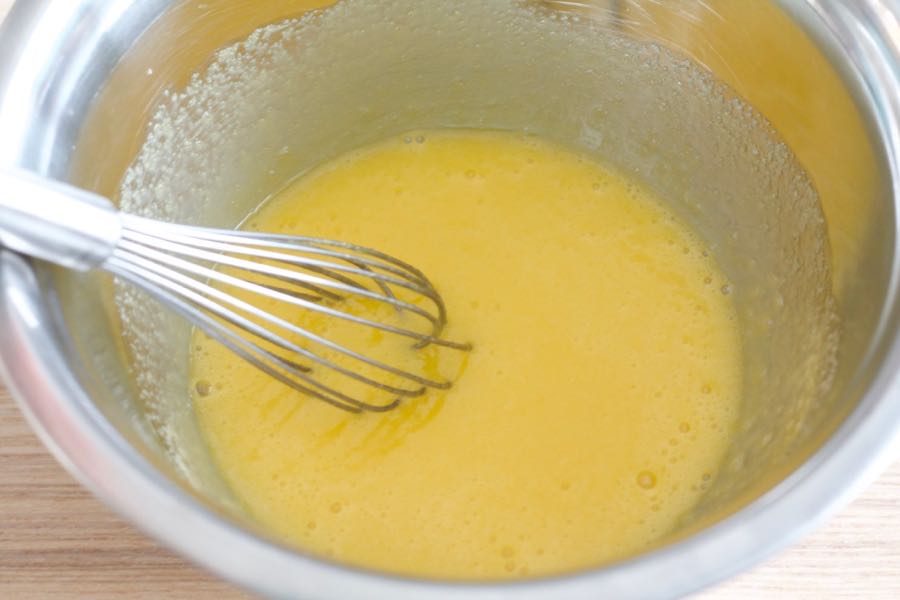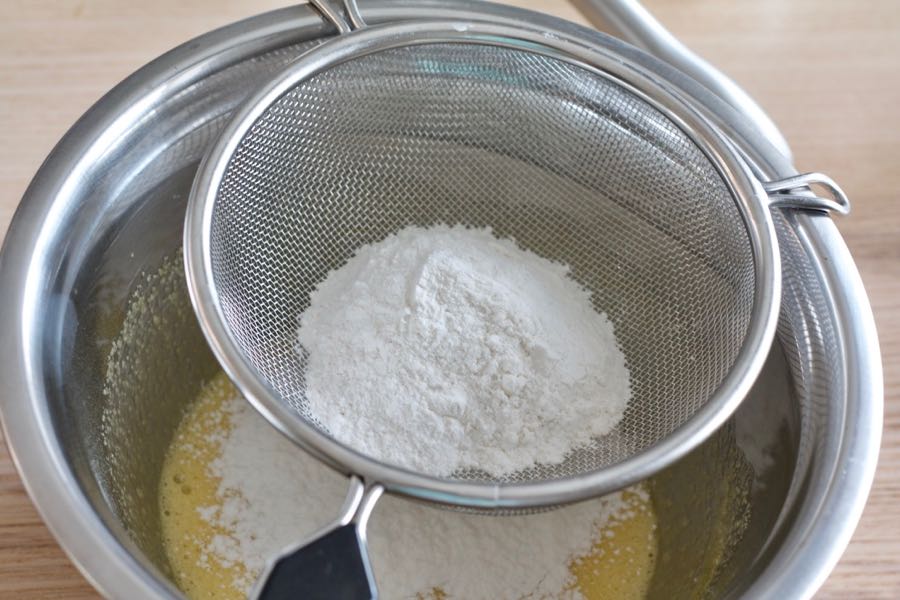 While waiting for the milk mixture to simmer, whisk together the 100g egg yolks and the remaining 3/4 of the sugar in a separate bowl. Add the 40g of sifted flour to the egg yolk mixture. Mix again until smooth. Set aside.
---
Step 3: Temper the egg mixture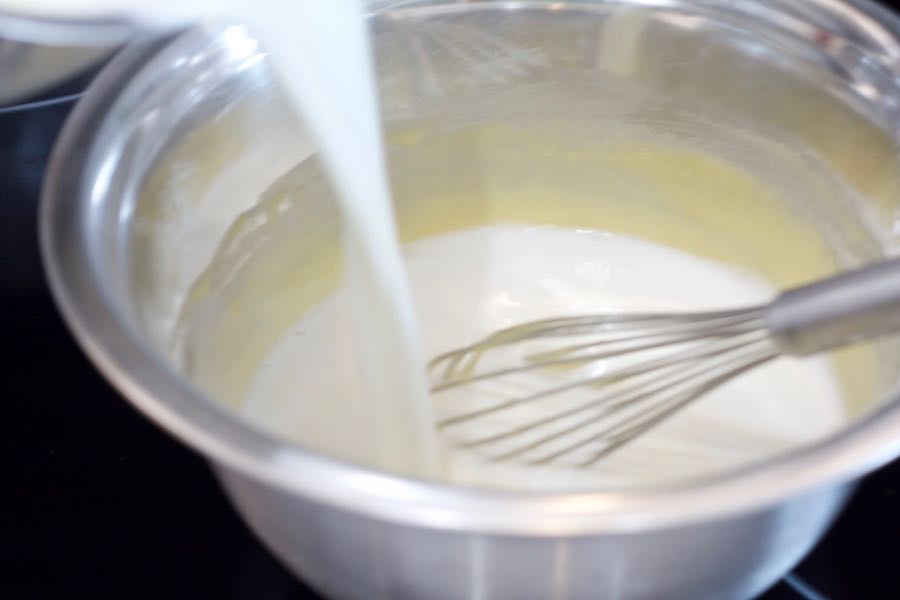 Pour a little of the hot milk into the egg mixture and immediately whisk to combine.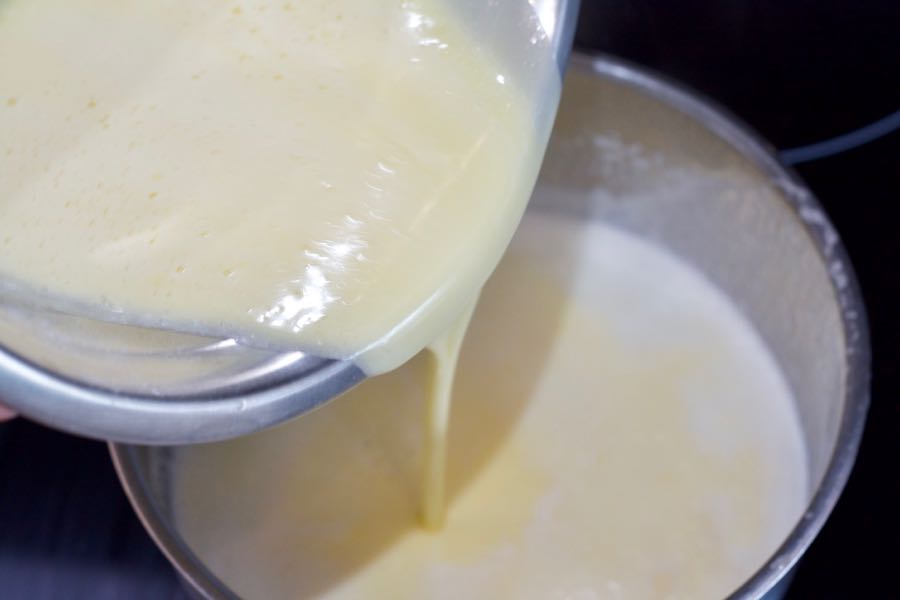 Continue pouring half of the milk mixture slowly into the eggs, whisking thoroughly between additions. Return the mixture back into the saucepan over medium-low heat.
---
Step 4: Cook the pastry cream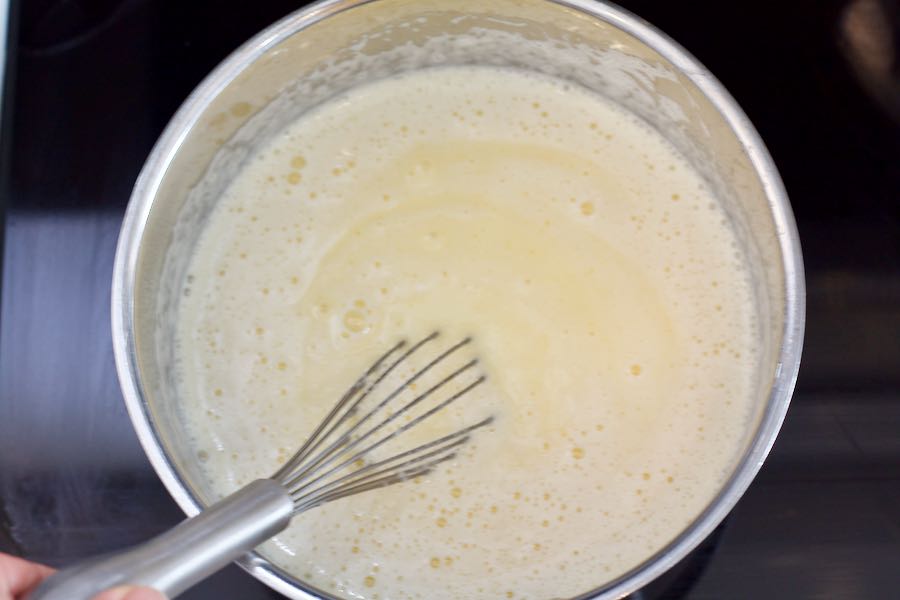 Continue to whisk the mixture until it thickens. Whisk in the lumps until the pastry cream is smooth. When it has thickened to a pudding-like consistency, pause whisking every few seconds to check if the cream has come to a boil.
Once you see large bubbles popping on the surface (refer to photo below), whisk for about 10 more seconds then remove the pan from heat.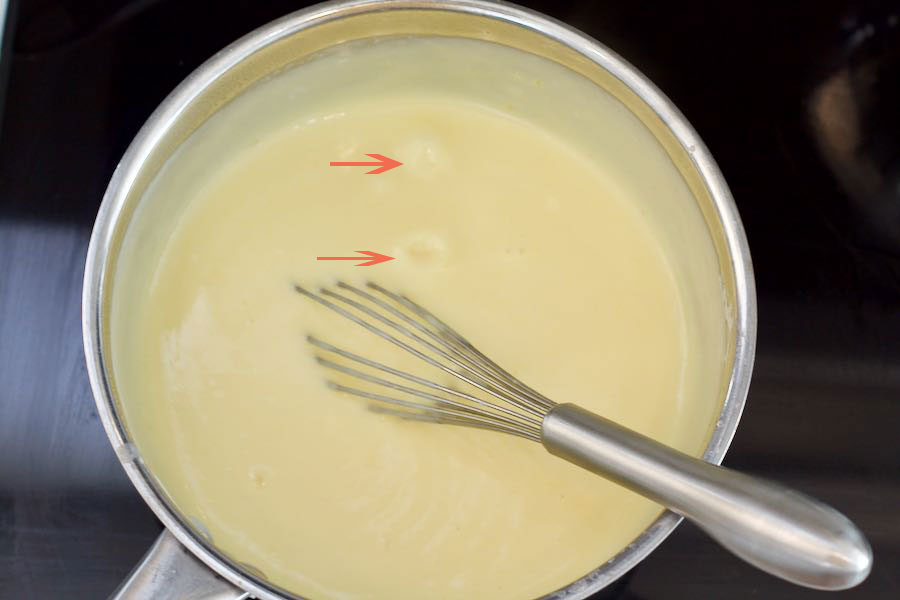 ---
Step 5: Add flavorings
Add the 1/2 teaspoon vanilla extract/ vanilla bean paste. If using other flavorings, such as chocolate, caramel, lemon curd, or any other flavorings, add them at this step. Stir until the flavoring has been evenly distributed.
---
Step 6: Strain the pastry cream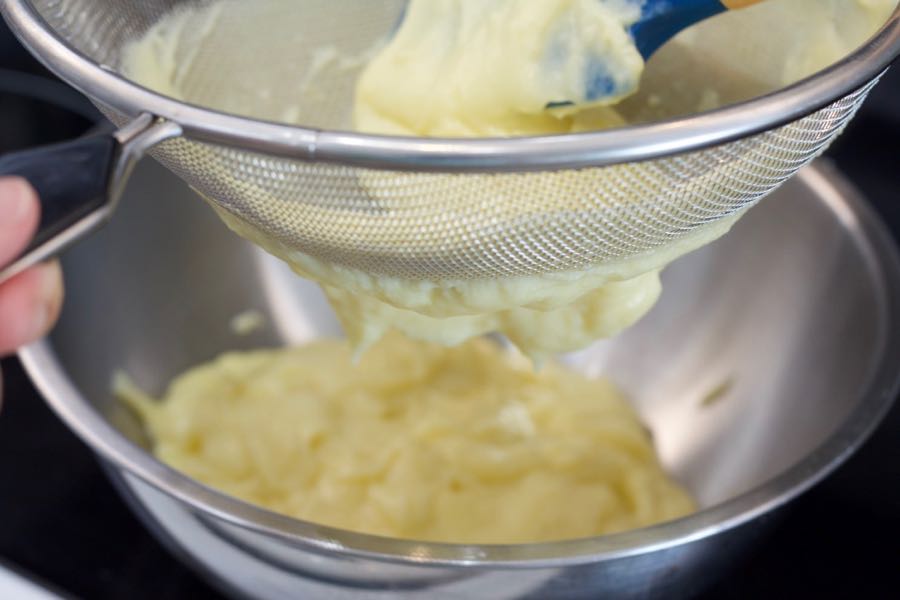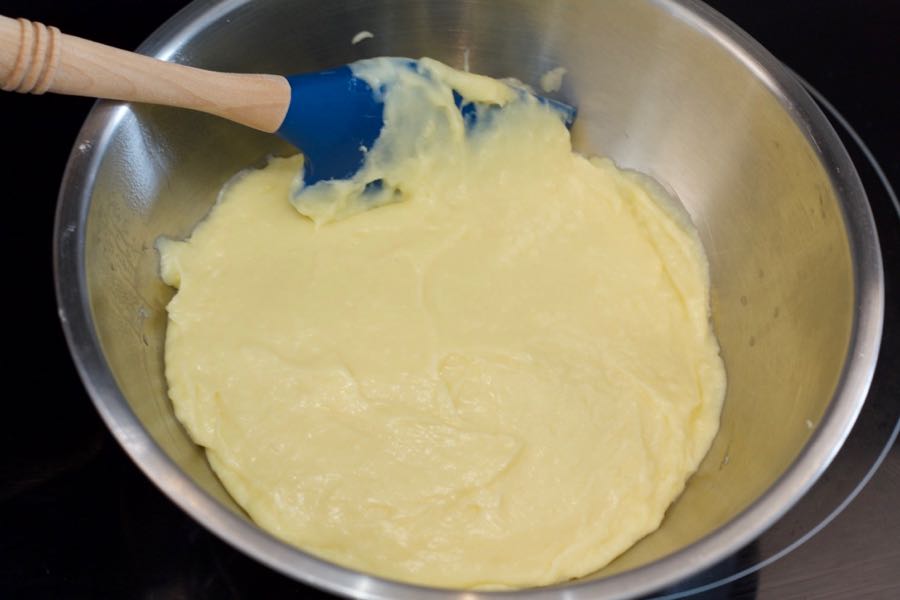 Pour the cream into the strainer set over the bowl. Push it through the strainer using a spatula. This is to ensure that there are no bits of cooked eggs and any lumps that may be in your pastry cream.
This is how you get a smooth, creamy, and lump-free pastry cream!
---
Step 7: Cover and cool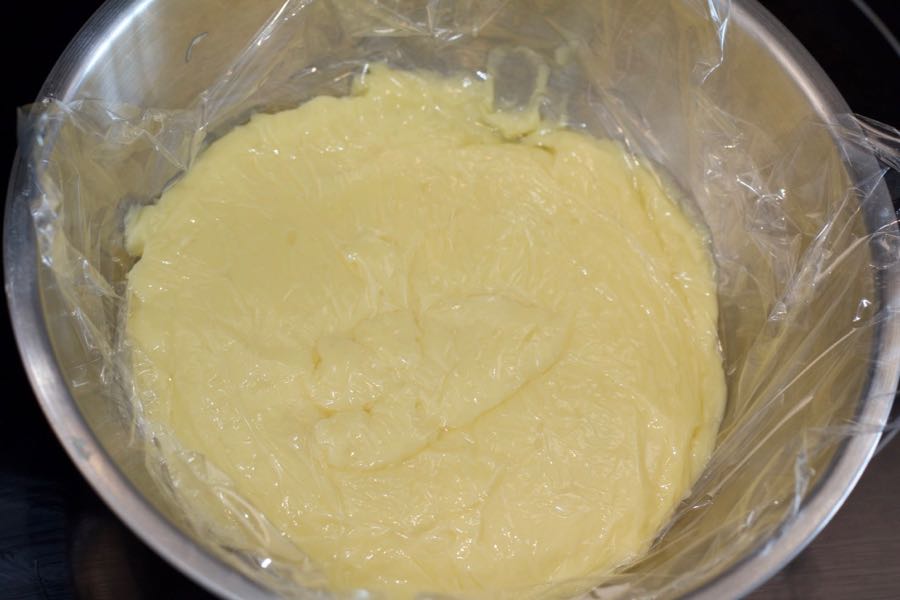 Immediately cover the pastry cream with a piece of plastic wrap pressed against the surface of the cream to prevent a skin from forming. Let it cool in the fridge, about 2 to 3 hours minimum, before using.
You might need to give the pastry cream a quick whisk once it has cooled before using it.
Made this recipe and love it?
If you try this recipe or any other recipe on this site, please then don't forget to rate the recipe and leave a comment below. I would love to know how it turned out!
Recipes that uses pastry cream