Mille Crepe Cake – a decadent, classic French cake consisting of 14 layers of paper thin crepes separated with pastry cream, plus variations on how you can serve it in different ways just by adding one or two ingredients!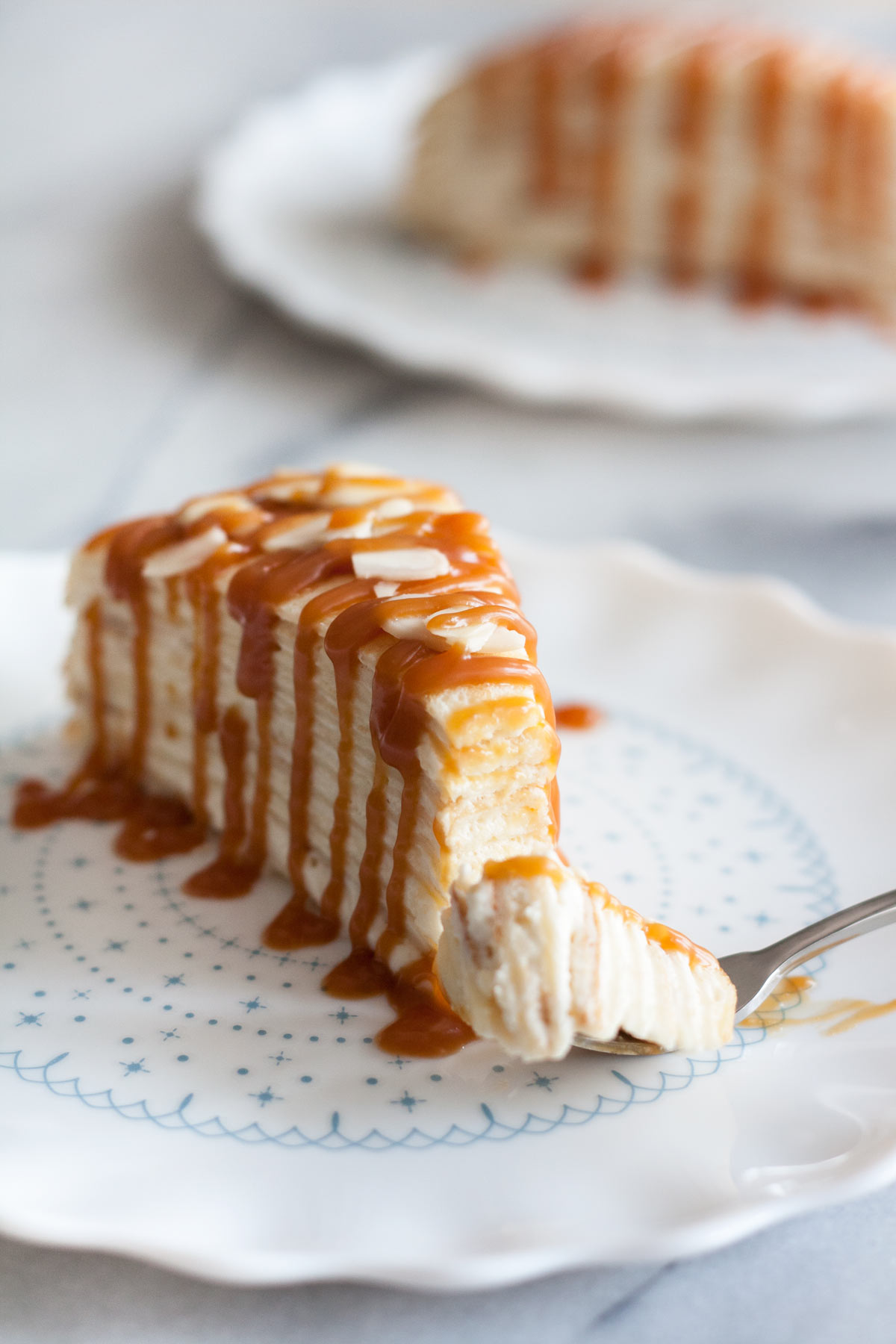 This elegant French no-bake cake, with its layers of light filling and delicious crepes, will surely impress your friends and family! Last week's post was about Pastry Cream, and this Mille Crepe Cake is one of the many treats you can make use of it.
'Mille' means 'a thousand' in French. This Mille Crepe Cake is made of layers of crepes stacked together, with a thin layer of lightened pastry cream in between.
Are you unfamiliar with making crepes? It is actually easy once you learn the proper techniques. This tutorial (with step-by-step photos) is a good place to start.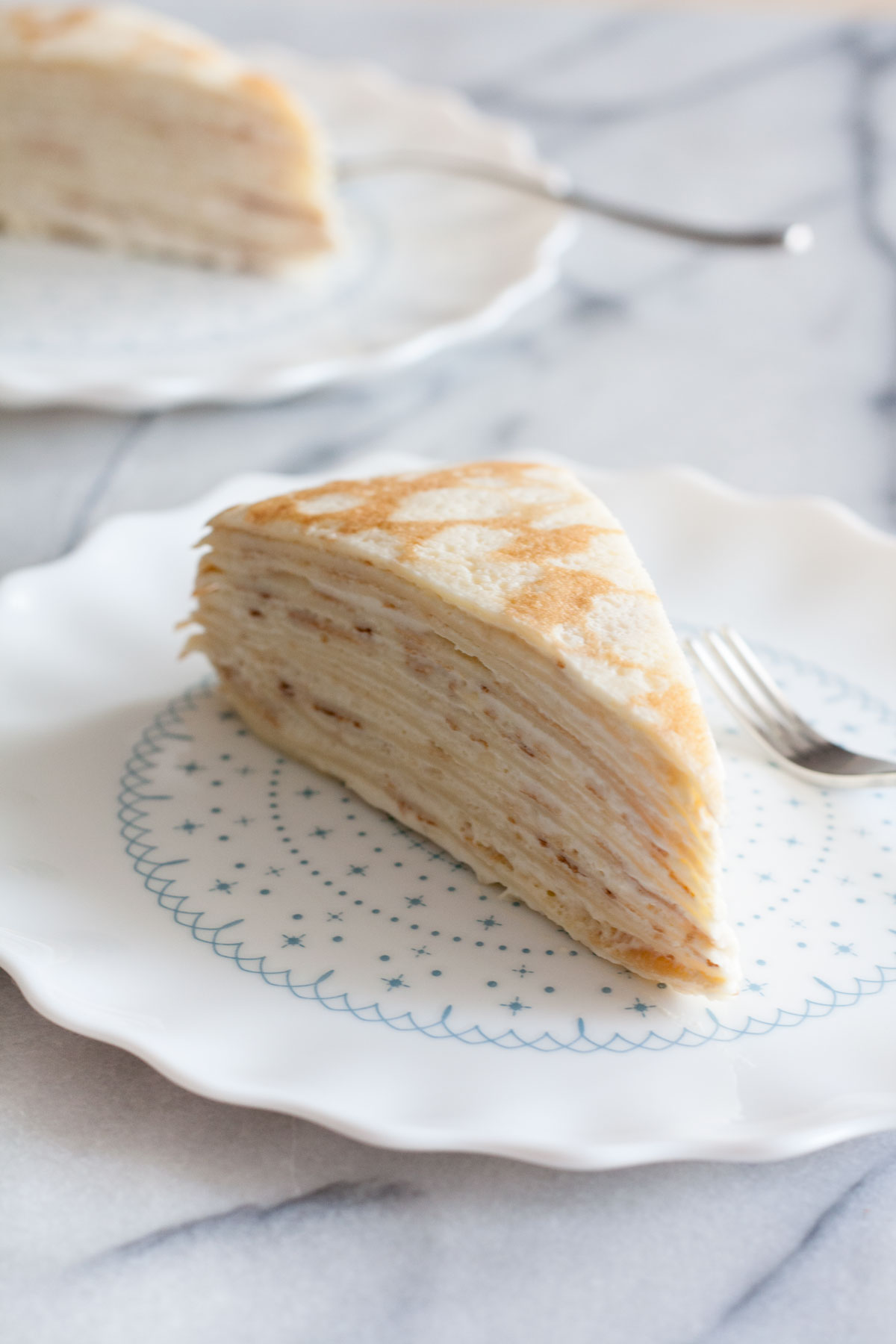 It is incredibly easy to make this cake – using simple ingredients, no special equipment, and no need for an oven! But it does take a bit of time and patience to make all the crepes and the filling so I usually make most of the components ahead.
There are two components to make this cake: the crepes and the filling, which is a lightened pastry cream. A lightened pastry cream is actually whipped cream mixed with pastry cream.
You can make the crepes up to 2 days ahead and up to 3 days ahead for the pastry cream.
For this recipe, gelatine is also added so that the cream will not melt or get all goopy when it sits around for a while. I prefer to make the whipped cream and fold it into the pastry cream just before I start to assemble the cake.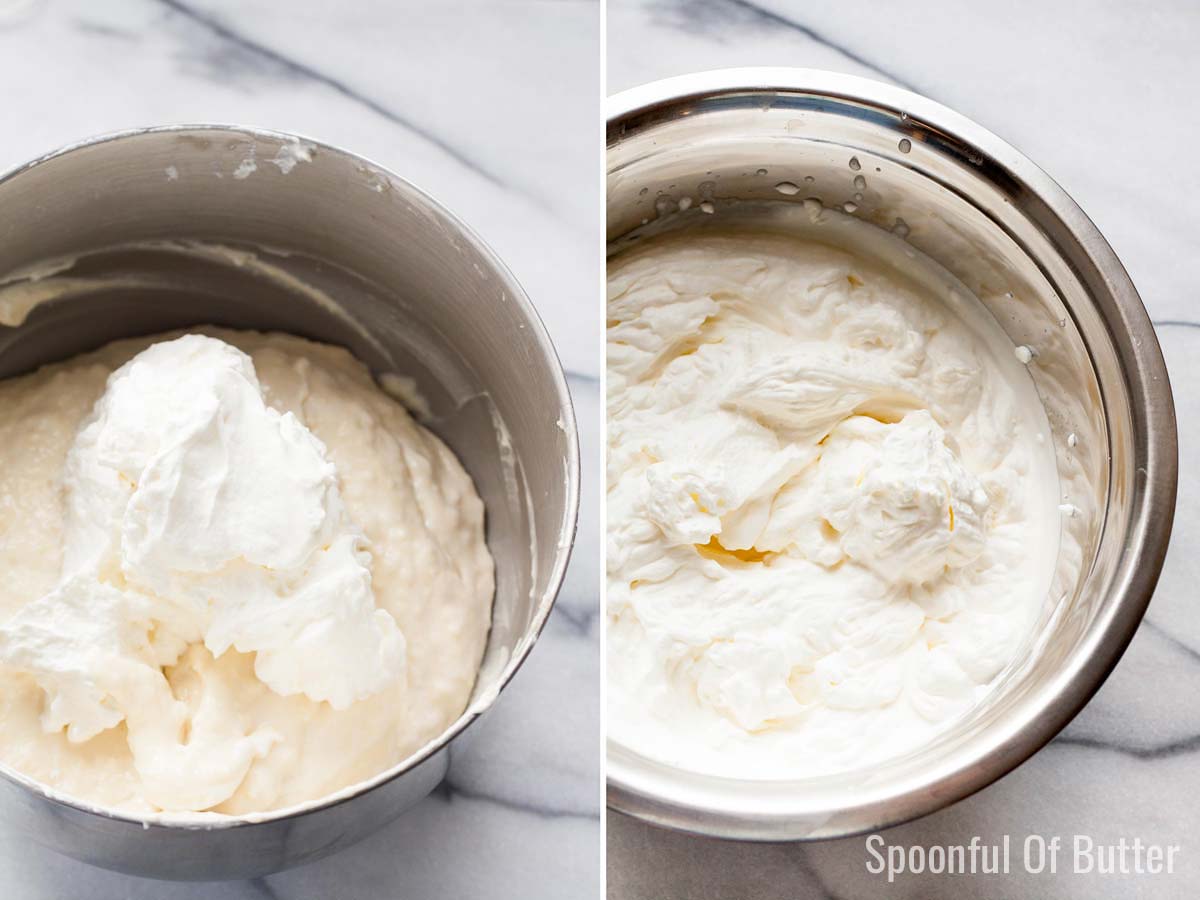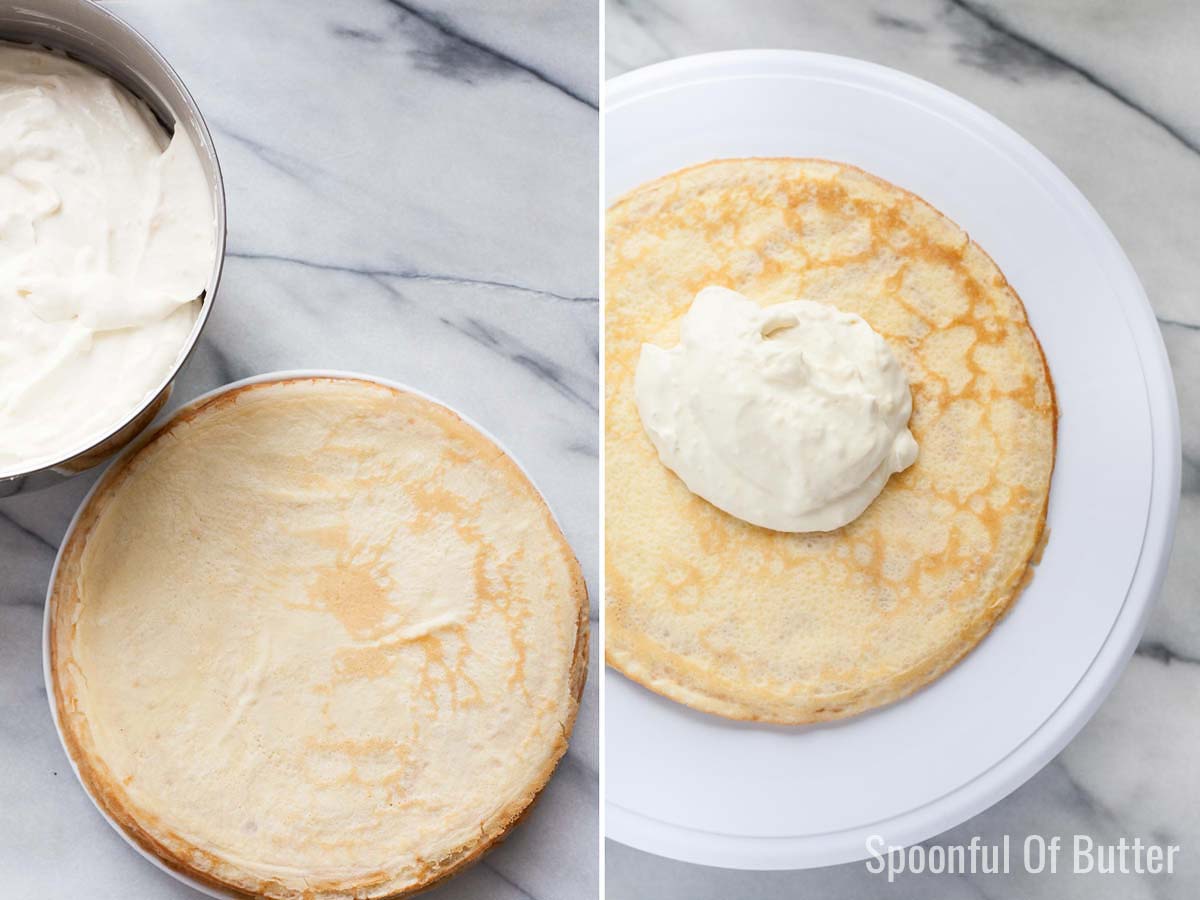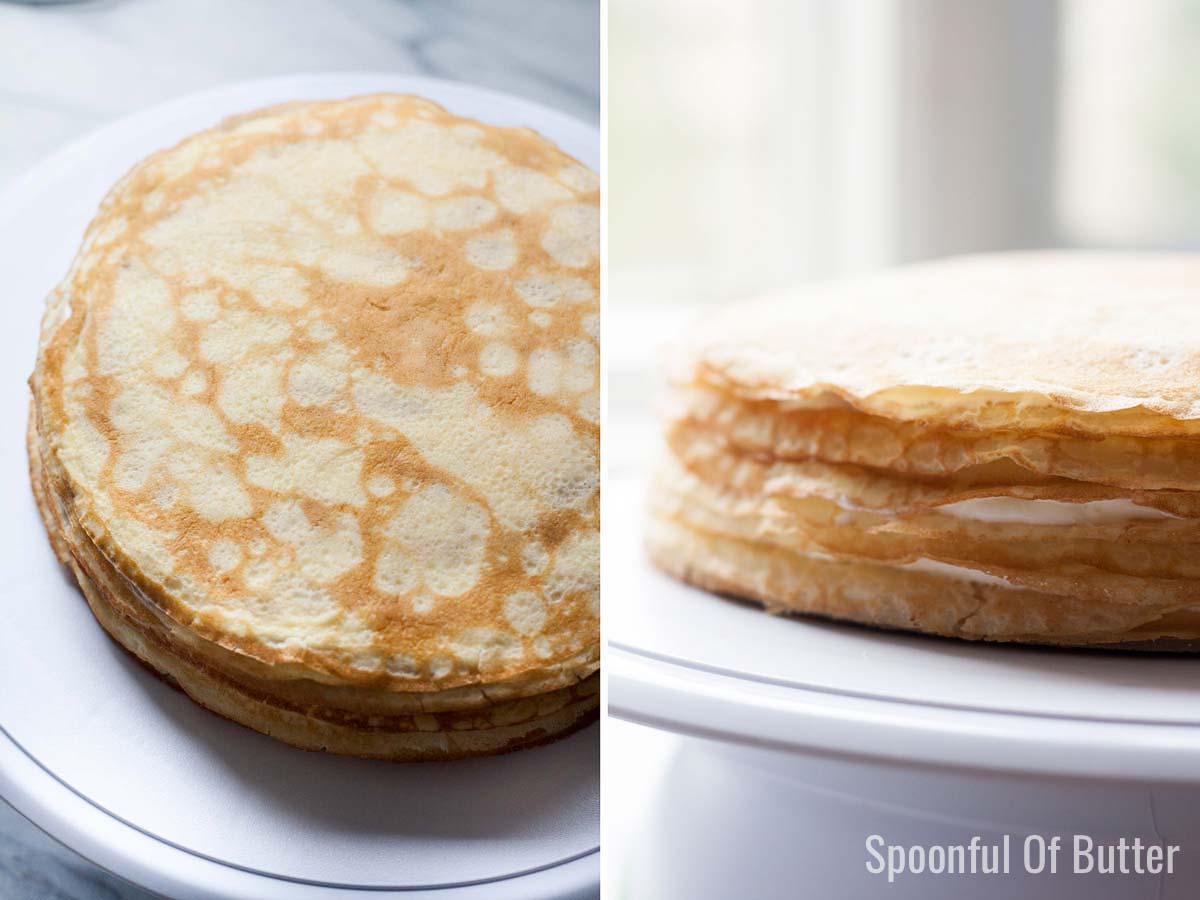 I recommend that you assemble the cake a day before serving so the filling has enough time to set, or at least 3 hours in the fridge if you are really pressed for time. Otherwise, the cream might be too soft to slice the cake.
But I do totally understand if you'd like to devour it right after making it – I did so many times! These layers of cream-filled crepes are just hard to resist!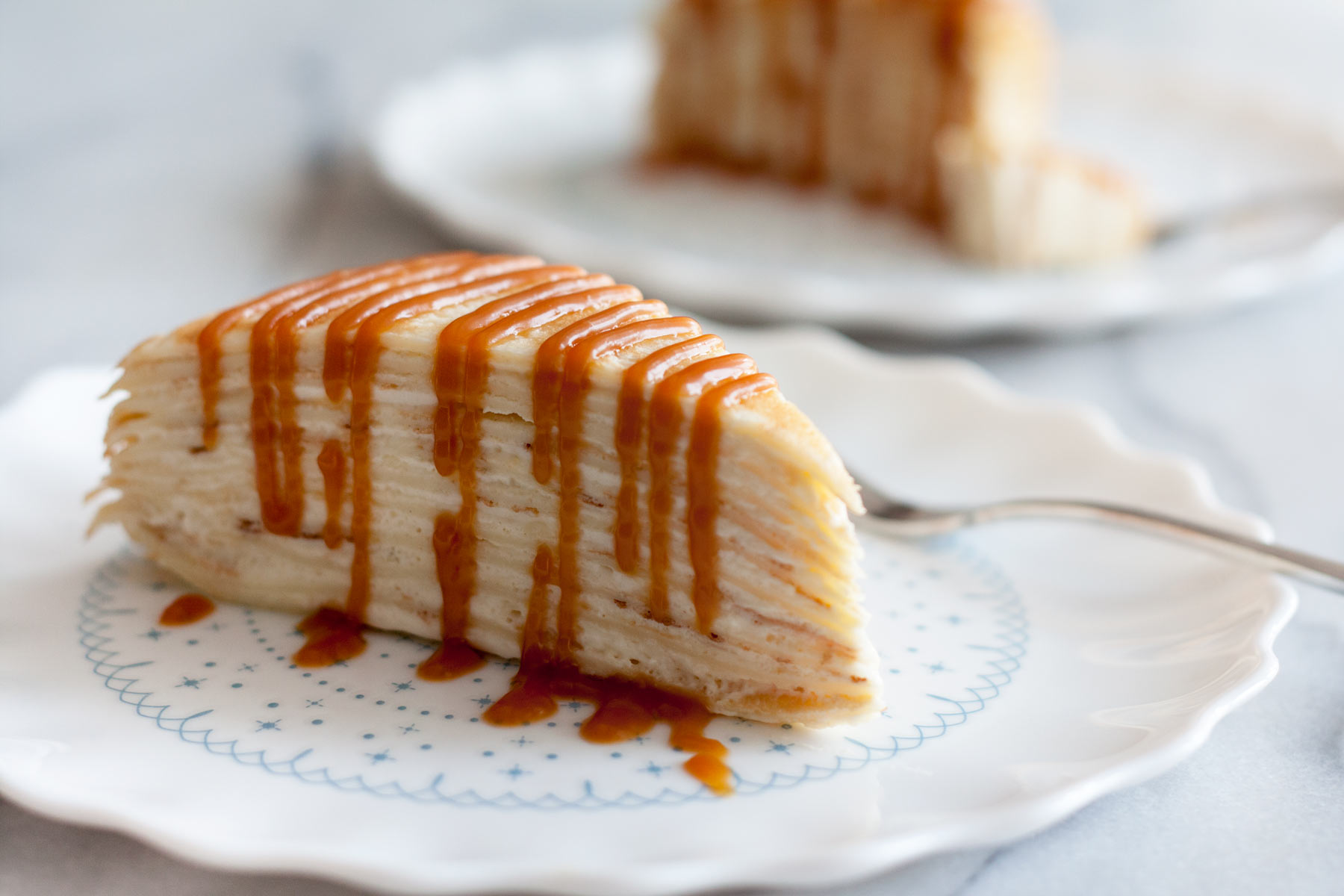 Variations
I love the light, delicious, and melt-in-your-mouth texture of a classic mille crepe cake. But what I also love about this crepe cake is that you can easily add simple ingredients to boost its flavor and texture! Here are some of my favorites though you can easily try your own combination – whatever suits your taste!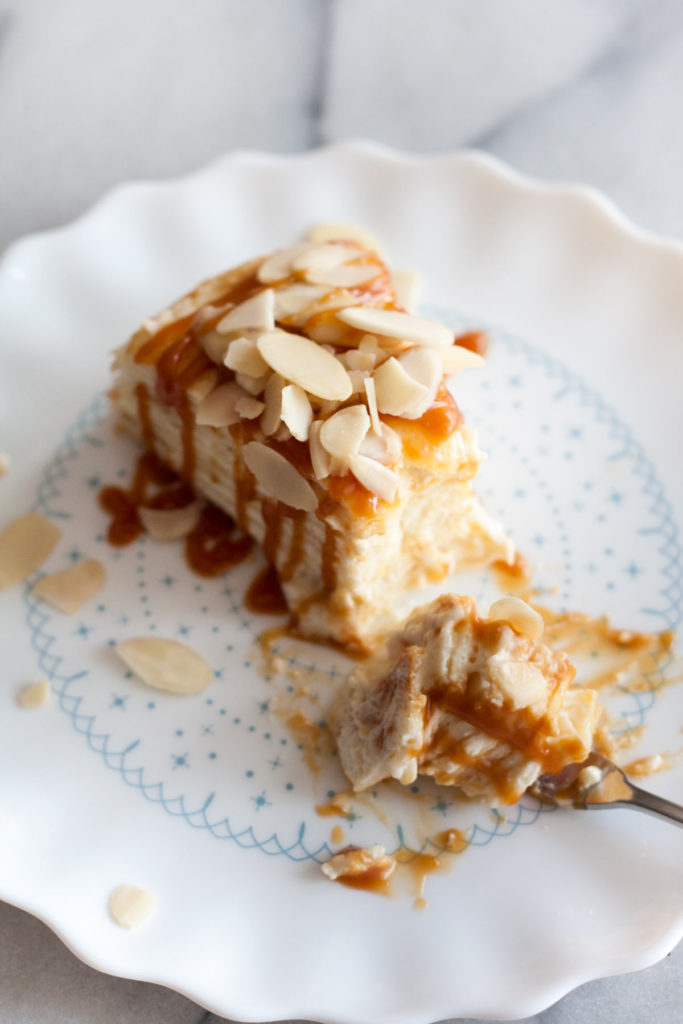 Variation #1: Make it a fruit-filled crepe cake. Add sliced fruits in between layers. After spreading the pastry cream evenly spread the fruits before topping it with the next crepe layer. My favorites are mangoes and peaches; bananas, kiwis, strawberries are good options too.
Variation #2: Add more flavor and texture with your favorite sauce and toasted almonds. Drizzle salted caramel sauce, dark chocolate sauce, and sprinkle sliced almonds on top.
Variation #3: Cover with Caramelized Sugar. Sprinkle 2 tablespoons of granulated sugar on top of the cake in an even layer. Brûlée the sugar using a kitchen torch. It is important to this very quickly otherwise the cream filling might start to melt. Hold the torch at a 90-degree angle to the top of the cake, then use a small circular motion working your way around the cake to evenly caramelize the sugar without burning the cake.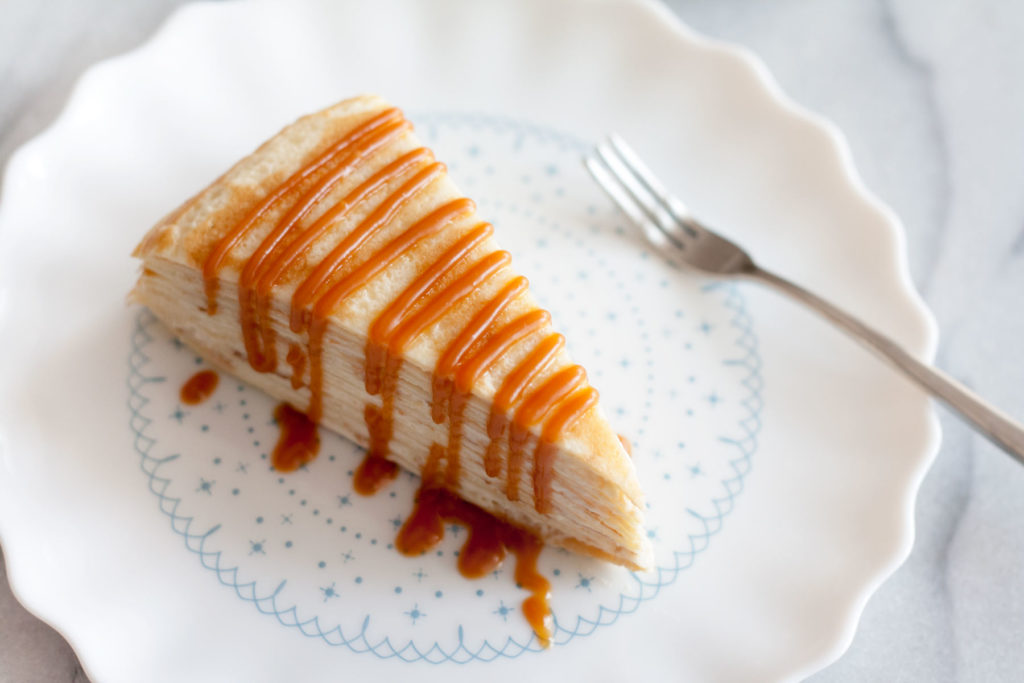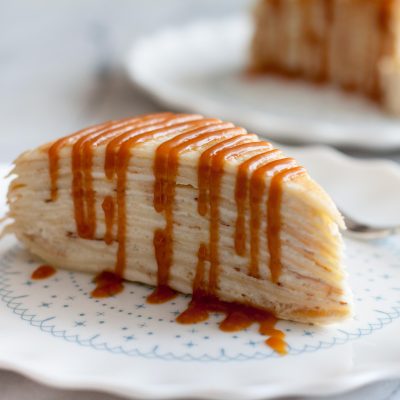 Classic Mille Crepe Cake + Variations!
Servings:
1
8-inch crepe cake
Mille Crepe Cake – an elegant, classic French cake consisting of layers of paper thin crepes separated with pastry cream, plus variations on how you can serve it in different ways just by adding one or two ingredients!
Print Recipe
Ingredients
14

pieces

Crepe

(see Note 1 for recipe source)
LIGHTENED PASTRY CREAM
600

grams

2 cups Pastry Cream ((see Note 2 for recipe source))

400

milliliters

Heavy/ Whipping Cream

37

grams

3 tablespoons white granulated sugar

6

grams

2 teaspoons gelatine powder

2

tablespoons

cold water
Instructions
PREPARATION. The crepes should not be hot - cold or at room temperature is okay. The pastry cream should be at room temperature. If you have made the pastry cream ahead, take it out from the fridge about 30 minutes before and whip it up to get rid of lumps.

MAKE THE LIGHTENED PASTRY CREAM. Put two tablespoons of water in a microwave-safe bowl and sprinkle the gelatine over it. Set aside.In a large mixing bowl, add the sugar to the heavy cream and whip until stiff peaks. Dissolve the gelatine in the microwave for about 30 seconds. Stir until the gelatine has completely dissolved.Mix the gelatine and a little pastry cream in a bowl. Add the remaining pastry and mix well. Fold in the heavy cream to the pastry cream in three steps.

ASSEMBLE THE MILLE CREPE CAKE. Place the first crepe on the center of a flat plate. Top with a thin layer of filling and cover with the next crepe. Press slightly with another plate to flatten the cake evenly. Repeat the steps with the remaining crepes until you have 14 layers. Refrigerate overnight or at least three hours if you are really pressed for time.

SERVING. Powder with icing sugar and serve. You can also drizzle with salted caramel or dark chocolate sauce, and sprinkle with sliced almonds.
Notes