Tapsilog is a popular Filipino all-day breakfast meal consisting of beef tapa, fried egg, and garlic fried rice. The contrasting flavors and textures will make you want to eat more!
Serve with fresh chopped tomatoes and atchara (pickled green papaya), this beef tapa is a delicious way to start the day.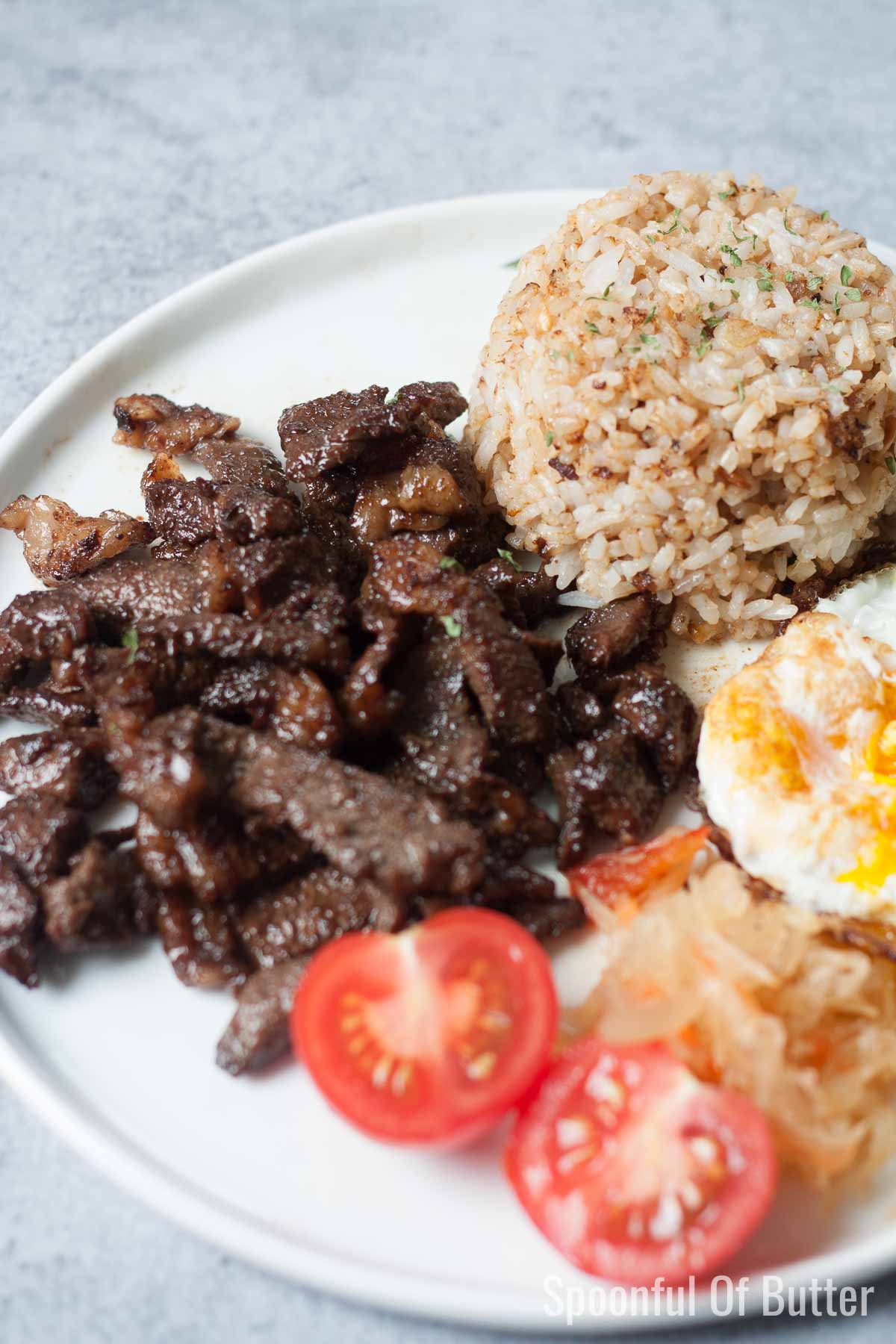 What is beef tapa
Beef tapa is dried, cured beef similar to beef jerky. Traditionally, it was prepared by curing the meat with salt. Nowadays, beef tapa is made by simply marinating the meat before frying or sautéing them.
What is Tapsilog
The word tapsilog is actually an abbreviation of the words tapa, sinangag (fried rice), and itlog (egg).
Filipino food has a collection of this "silog" type of breakfast. We have longsilog for longganisa (sausages), tocilog (sweet cured pork) for tocino, bangsilog for bangus (milkfish), and several more.
If you notice, only the accompanied meat changes; they are always served with fried rice (sinangag) and egg (itlog).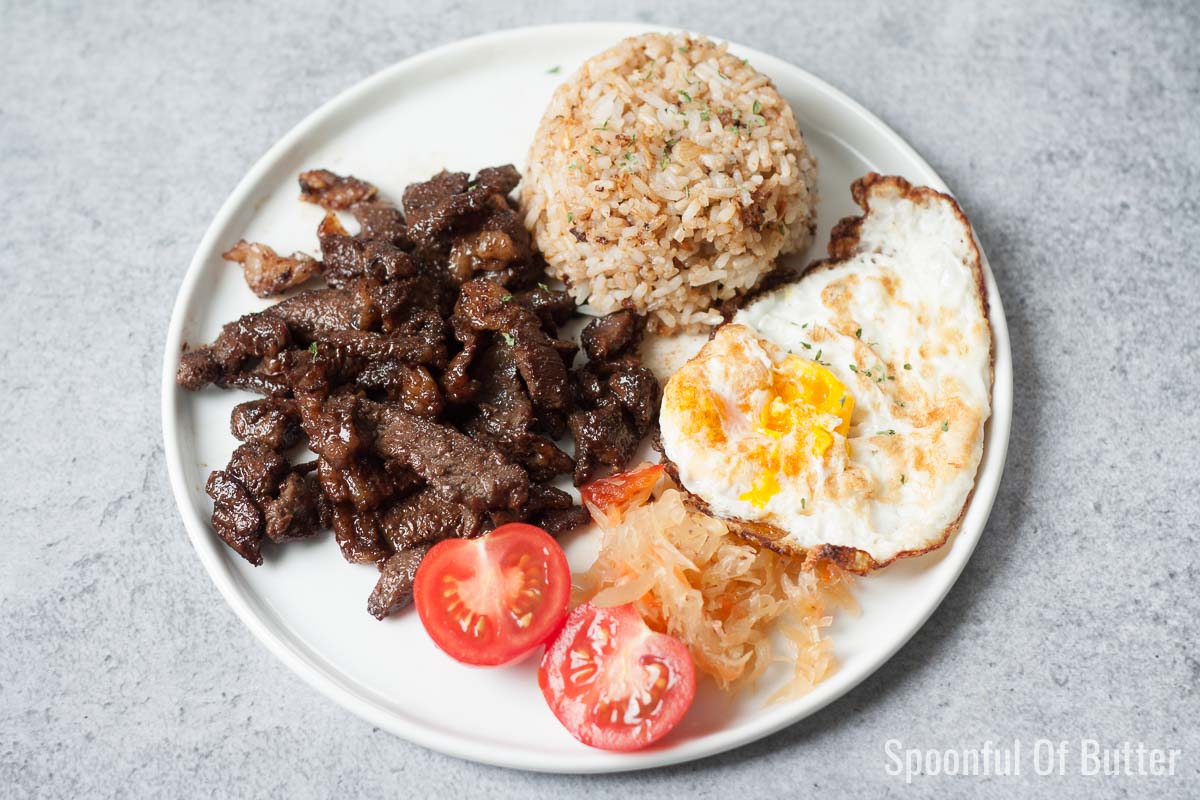 What do I need to make beef tapa
sirloin beef
light soy sauce
minced garlic
brown sugar
ground black pepper
juice of fresh calamansi or lemon
oyster sauce (optional)
cooking oil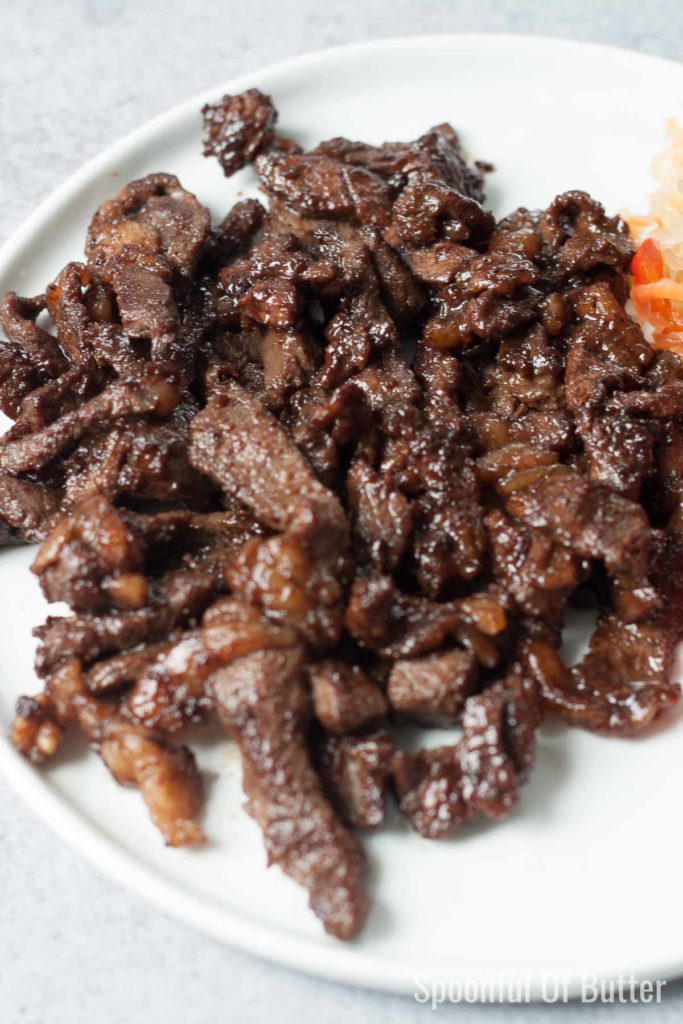 How to make beef tapa
First, slice your beef thinly so it would cook fast and, at the same time, avoid beef from getting tough from cooking for a long time.
The marinade for this beef tapa recipe is a combination of sweet, salty, garlicky and tangy flavors. Make the marinade by simply combining all the marinade ingredients together – soy sauce, garlic, calamansi juice or lemon juice, sugar, oyster sauce, pepper, and garlic.
You can easily customize the marinade according to your taste – add more sugar for sweetness, calamansi or lemon juice for a bit of sourness, or lots of pepper if you want it to be spicy.
PRO TIP: Always taste the marinade before adding raw meat.
Taste the marinade before adding in the raw beef. Once your marinade is ready, add the sliced beef and massage to fully coat with marinade.
Keep for at least 4 hours in the fridge. You can also freeze them if you don't plan on cooking it within 24 hours.
Before cooking the marinated beef, drain meat from marinade. In a frying pan over medium heat, add a tablespoon of oil. Add beef slices in a single layer and cook, turning on sides, for about 3 to 4 minutes or until browned.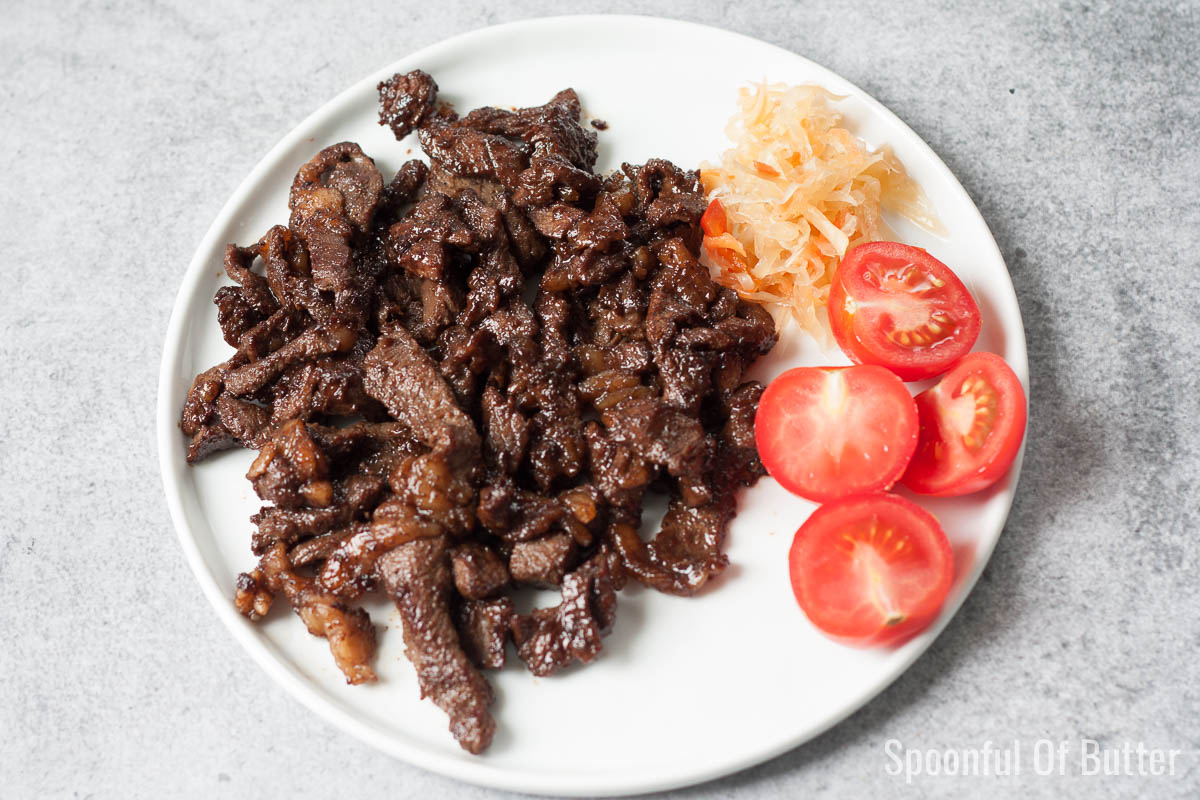 How to serve beef tapa
Eating tapsilog is all about the balance of flavors. Tapsilog goes well with chopped, fresh tomatoes, cucumber, atchara (pickled green papaya) and vinegar dip to balance the saltiness of beef tapa, the richness of the fried egg, and garlicky flavor from the fried rice.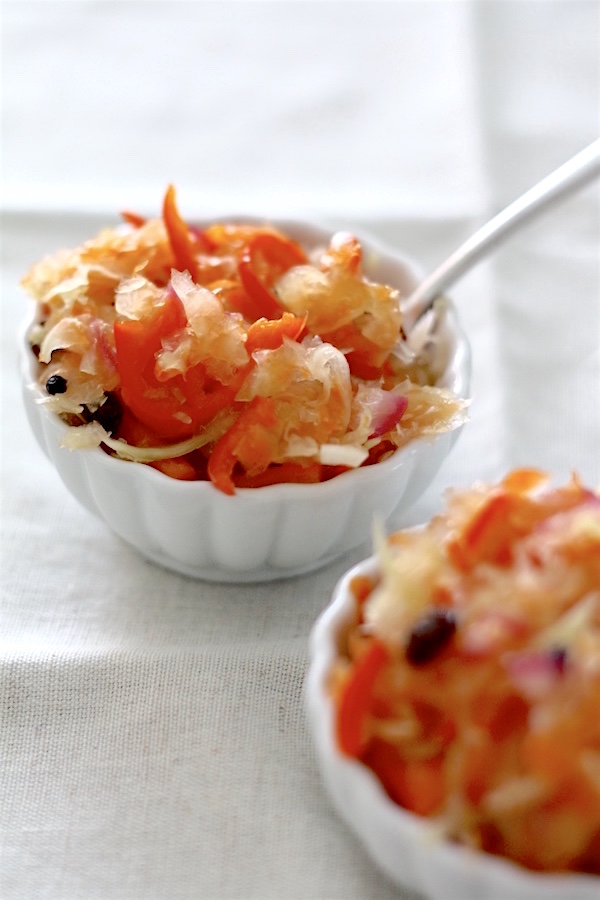 Try this beef tapa recipe for your next breakfast or brunch and I assure you, homemade is always better!
Print Recipe
Beef Tapa (Tapsilog)
The marinade for this Filipino Beef Tapa tapsilog has a delicious combination of sweet, sour, and salty flavors - it makes me want to eat more! Serve with garlicky fried rice, crispy fried egg, fresh tomatoes and atchara (pickled green papaya) - perfect for breakfast or any time of the day. #beef #tapa #tapsilog #filipinoFood #breakfast #filipino #curedbeef #spoonfulofbutter"
Ingredients
300

grams

beef sirloin

thinly sliced ((any other cuts of beef are ok))

1/4

cup

light soy sauce

3

cloves

garlic

minced

1 1/2

tablespoon

brown sugar

1/2

teaspoon

ground black pepper

1 1/2

teaspoon

calamansi or lemon juice

2

teaspoons

oyster sauce

optional

1-2

tablespoons

cooking oil
Instructions
Make the marinade. Except for the beef and cooking oil, add all the ingredients in a shallow bowl. You may taste the marinade and adjust the seasoning (e.g. more sugar if you want it sweeter, add chili flakes if you want a spicy tapa.)

1/4 cup light soy sauce,

3 cloves garlic,

1 1/2 tablespoon brown sugar,

1/2 teaspoon ground black pepper,

1 1/2 teaspoon calamansi or lemon juice,

2 teaspoons oyster sauce

Add the beef and ensure that each piece is fully coated with marinade. Take note that the beef slices should not be "swimming" in the marinade to avoid an overly salty tapa.

Keep in the fridge to marinate for at least 4 hours and up to 24 hours.

Drain beef from marinade. In a wide frying pan over medium heat, heat the cooking oil. Add the beef slices in one layer, turning on sides, for about 3-5 minutes or until well browned. The cooking time depends on the thickness of your meat. The key is not to overcook them or your tapa will become too tough. 

1-2 tablespoons cooking oil

SERVE WITH:-garlic fried rice-crispy, sunny-side up egg-fresh, chopped tomatoes-atchara (pickled green papaya) - see recipe in notes-vinegar dip
Notes
Atachara (pickled green papaya recipe) recipe can be found here.