3-4 servings
Beef Pares – chunks of beef simmered in a spiced broth until tender and then gently braised in a soy sauce, brown sugar and star anise mixture. And it is not pares without its partners: garlic fried rice, savory beef broth, and chili with calamansi. Beef brisket is the usual cut of beef used, but flank and boneless beef shank are great too.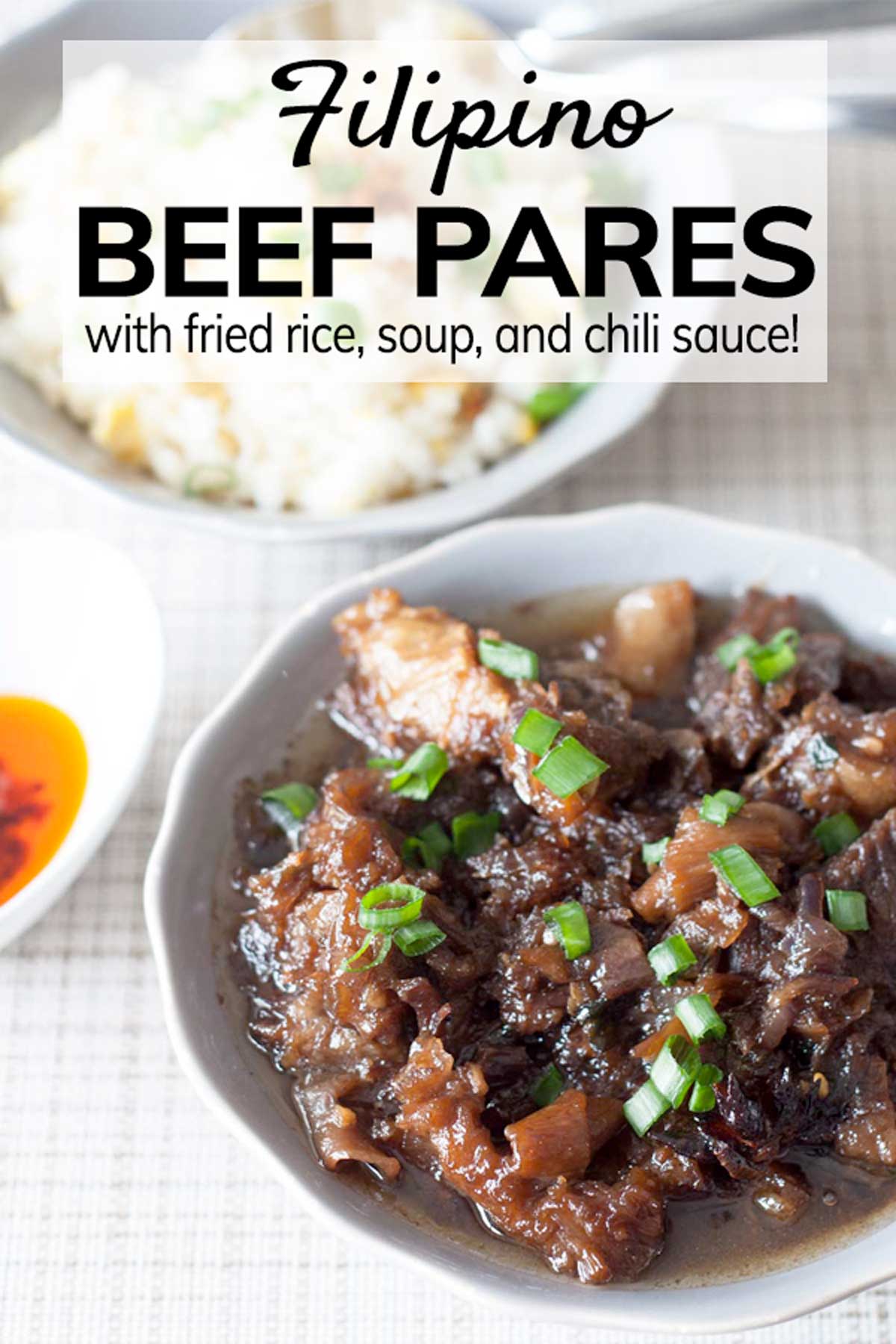 Beef Pares is a popular Filipino comfort food with Chinese influence. The use of star anise gives this dish a unique and delicious taste. Pares means pair or partner – a combination of beef and fried rice. Cuts with lots of litid (tendon) are used to achieve a texture that is tender and sticky at the same time. I usually use beef flank, but brisket and shanks are also ideal for making beef pares.
[the_ad_placement id="insidecontent1″]
Beef pares always comes with a simple beef broth soup on the side and some chili garlic squeezed with a bit of calamansi or lemon. Nothing beats eating beef pares in a real pares house along the streets, but I hope this recipe will satisfy your cravings, for now!;)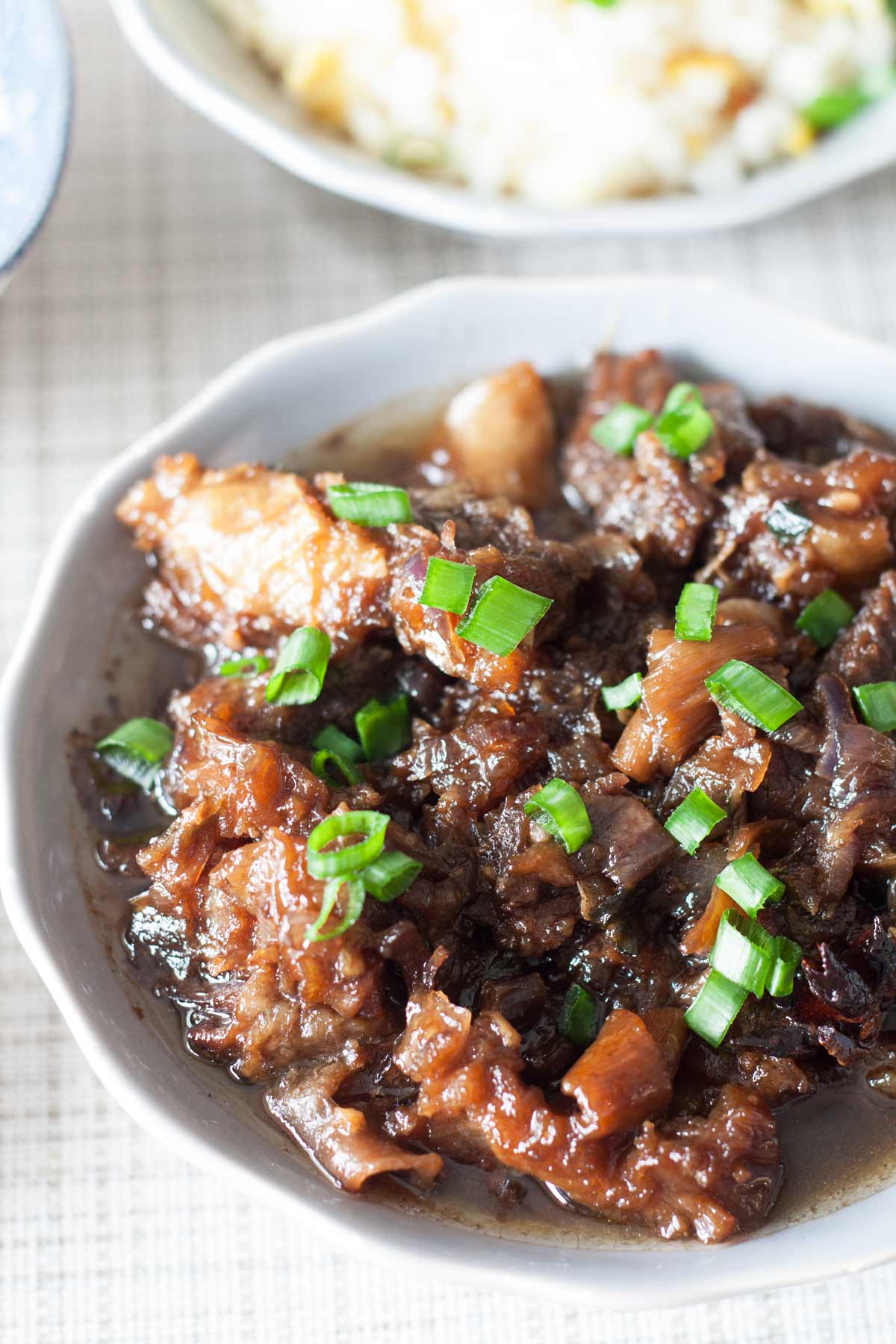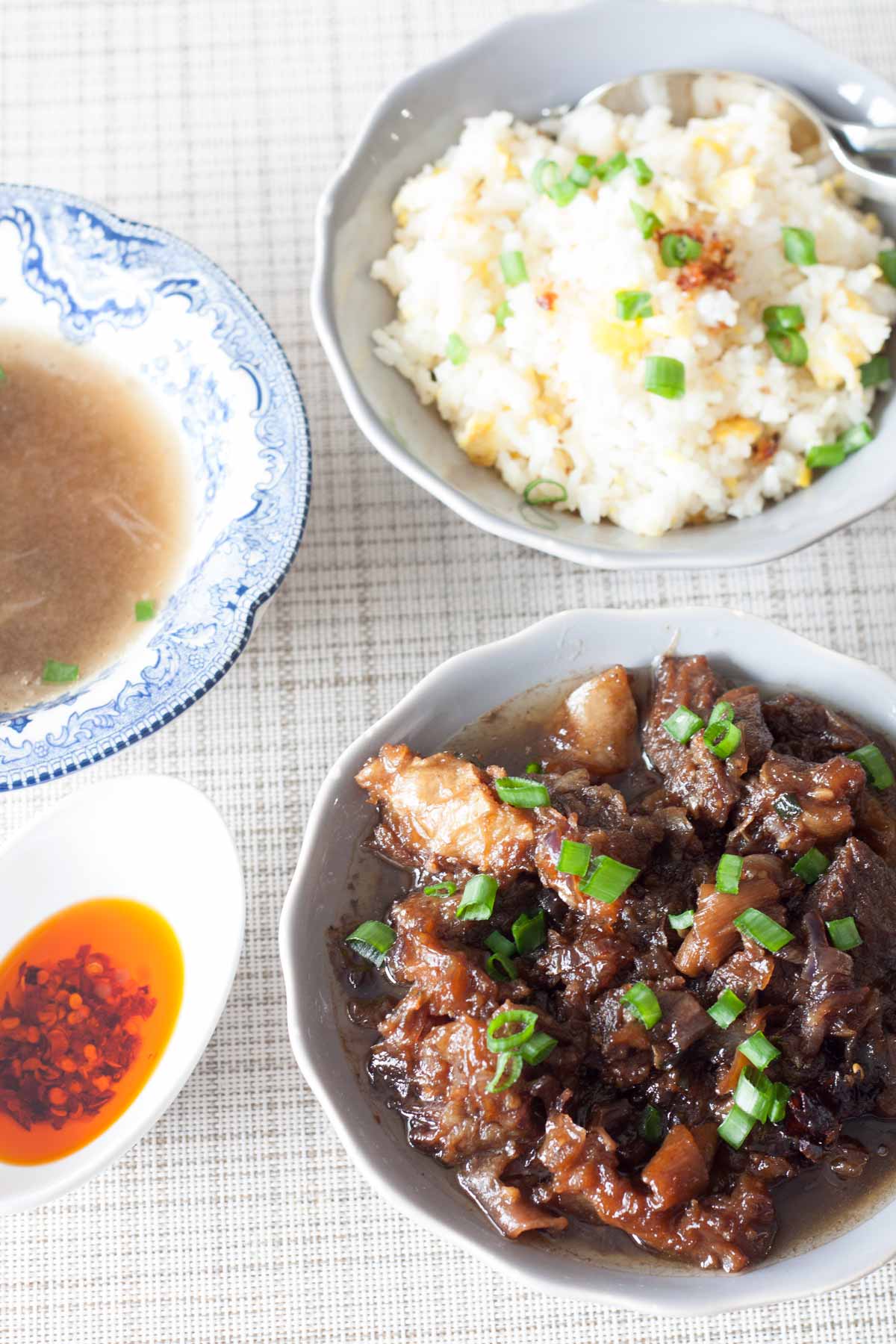 [the_ad_placement id="insidecontent2″]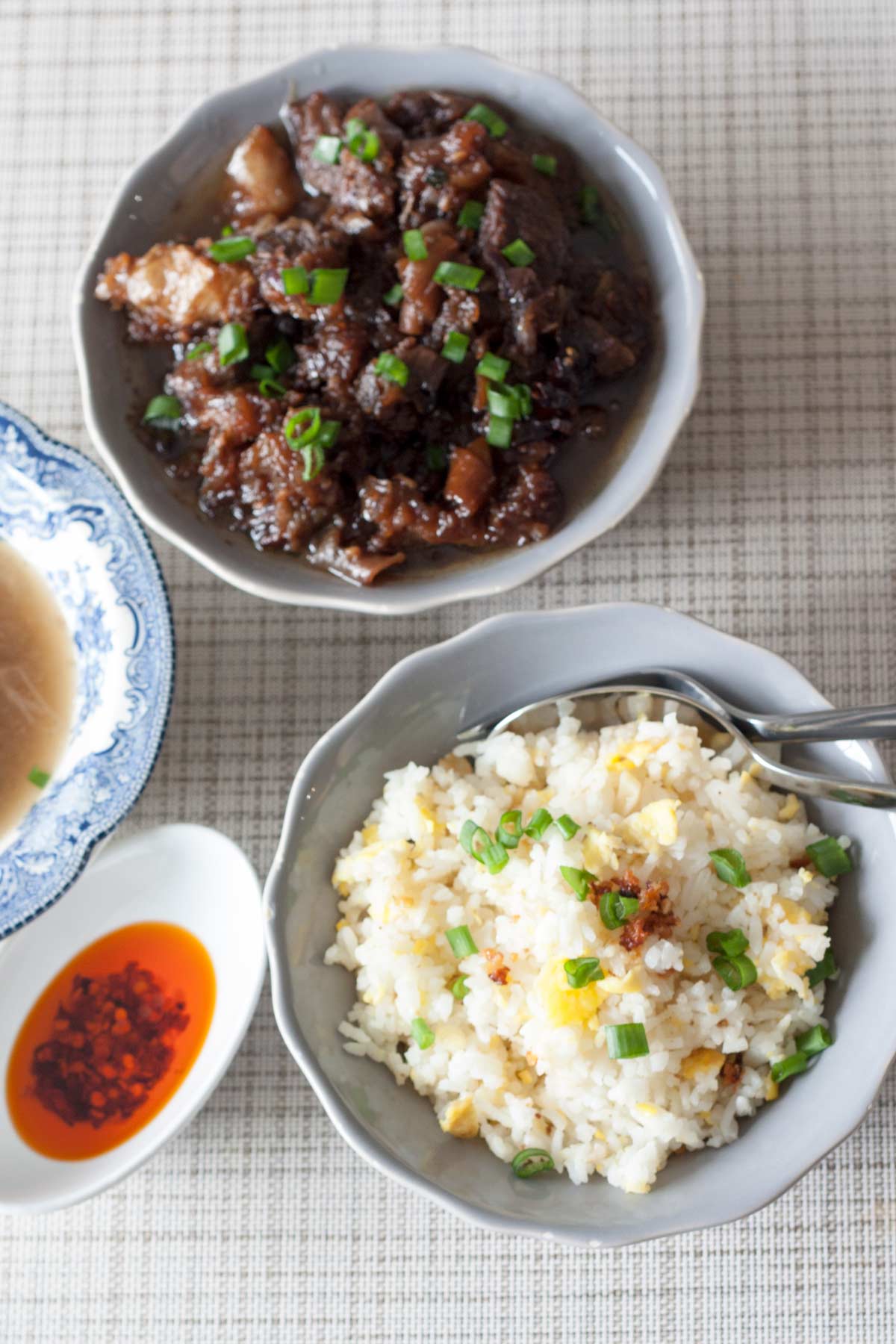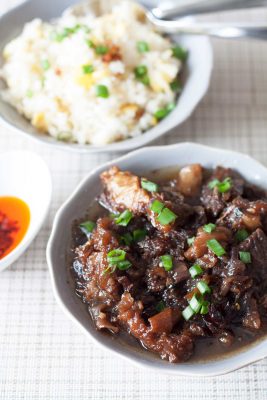 Filipino Beef Pares
Print Recipe
Ingredients
FOR THE BROTH:
900

grams

2 pounds beef flank, cut into 1-inch cubes

1

piece

white onion

quartered

4

cloves

garlic

smashed

3

pieces

bay leaves

1

teaspoon

ground black pepper

2

teaspoons

salt
FOR THE BEEF:
1

tablespoons

canola oil

1

piece

onion

chopped

4

cloves

garlic

minced

1

thumb-size ginger

minced

1

cup

beef broth

from cooking the beef

1/4

cup

soy sauce

1/4

cup

brown sugar

2

pieces

star anise

salt and pepper to taste
FOR THE FRIED RICE:
1/4

cup

canola oil

4

cups

day-old

cold cooked rice

6

cloves

garlic

peeled and minced

2

pieces

large egg
TOPPINGS and CONDIMENTS (optional):
chili garlic

juice from fresh calamnsi or lemon

green onions

chopped (for garnish)
Instructions
MAKE THE BROTH. Place the beef in a pot and add water, making sure all the meat are submerged. Boil for about 10 minutes while skimming the scum that floats on top. When meat is no longer red discard the water, rinse the beef and the pot to remove all traces of scum. Replace the beef and cover with water once more. Add the garlic, onions, bay leaves, salt, and pepper. Bring to a boil again then lower heat, cover, and simmer for about 1 1/2 to 2 hours, or until meat are tender. Remove the meat from broth and keep the broth on low heat.

MAKE THE BEEF. In a shallow pan over medium heat, heat 1 tablespoon of oil. Saute the onions, minced garlic and minced ginger. Add the cooked beef until lighltly browned, about 2-3 minutes. Add the beef broth, sugar, soy sauce and star anise. Stir until sugar is dissolved. Simmer the mixture until liquid has reduced, about 8-10 minutes. Taste and add salt and pepper as necessary.

FOR THE FRIED RICE. Break cold rice to separate the grains. Heat the oil in a wide pan over medium heat. Add the minced garlic, stirring occasionally, until golden brown. Transfer the garlic bits on a plate lined with paper towels. Set aside.In a small bowl, beat 2 eggs and cook scrambled eggs on the same pan. Set aside.Add more oil into the pan, as necessary. Add the rice and separate the grains while spreading the rice on the surface of the pan until heated through. Add the garlic bits and scrambled egg. Mix and evenly distribute them into the rice. Season with salt and pepper to taste.

ASSEMBLY. Get three bowls. Ladle broth into the first bowl, the beef on the second bowl, and the fried rice on the third bowl. Garnish each bowl with spring onions and serve with chili garlic with calamansi or lemon.