The quintessential breakfast coffee cake – soft and moist, with a middle layer cinnamon filling and crumbly cinnamon topping. A perfect pair to your coffee (and tea too)! The sour cream in this coffee cake keeps it very moist and adds a touch of tanginess.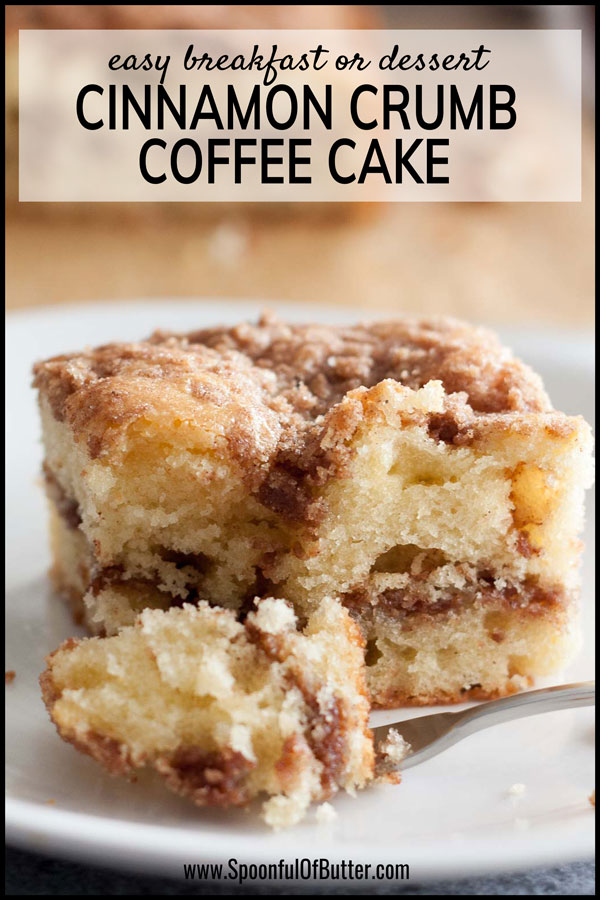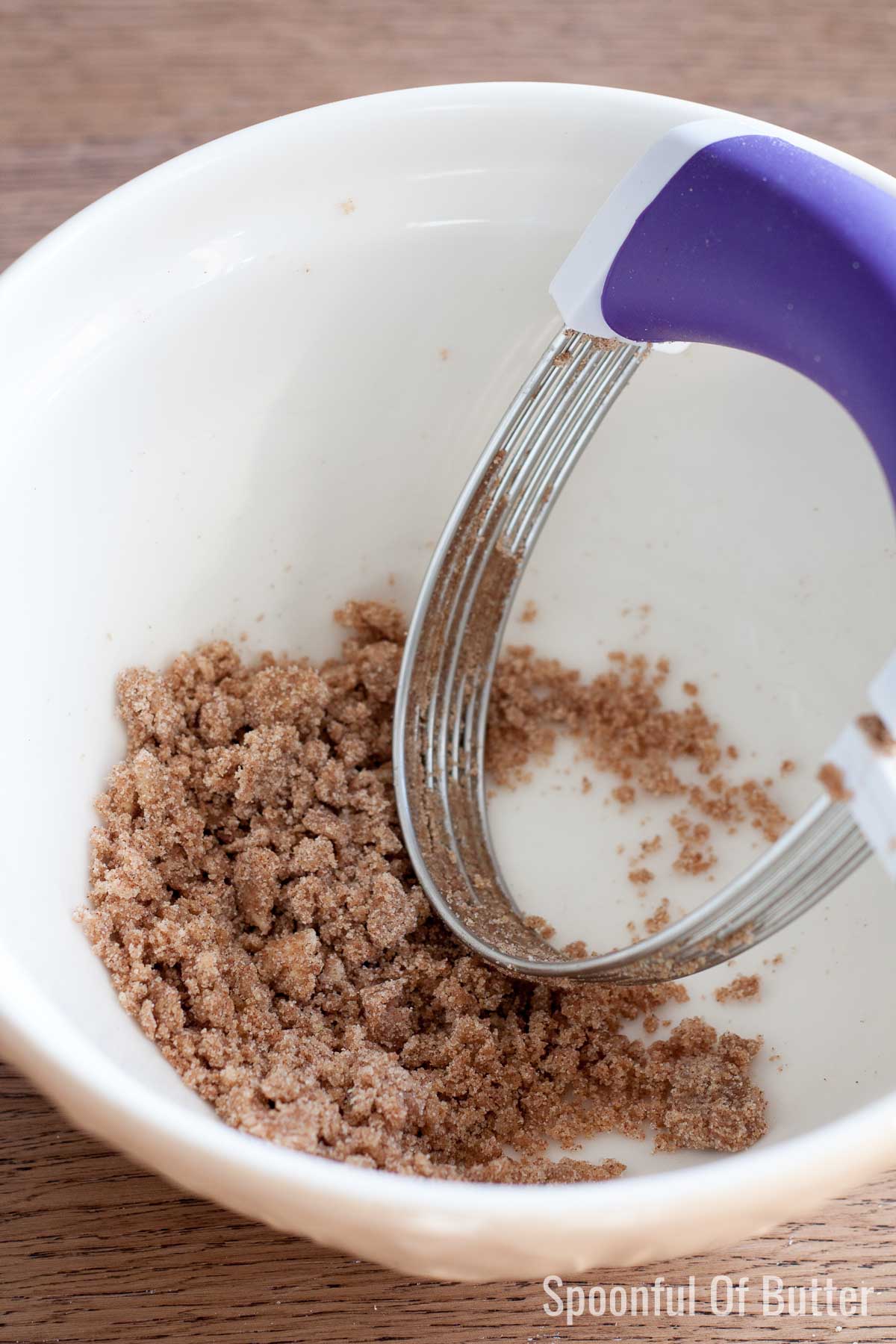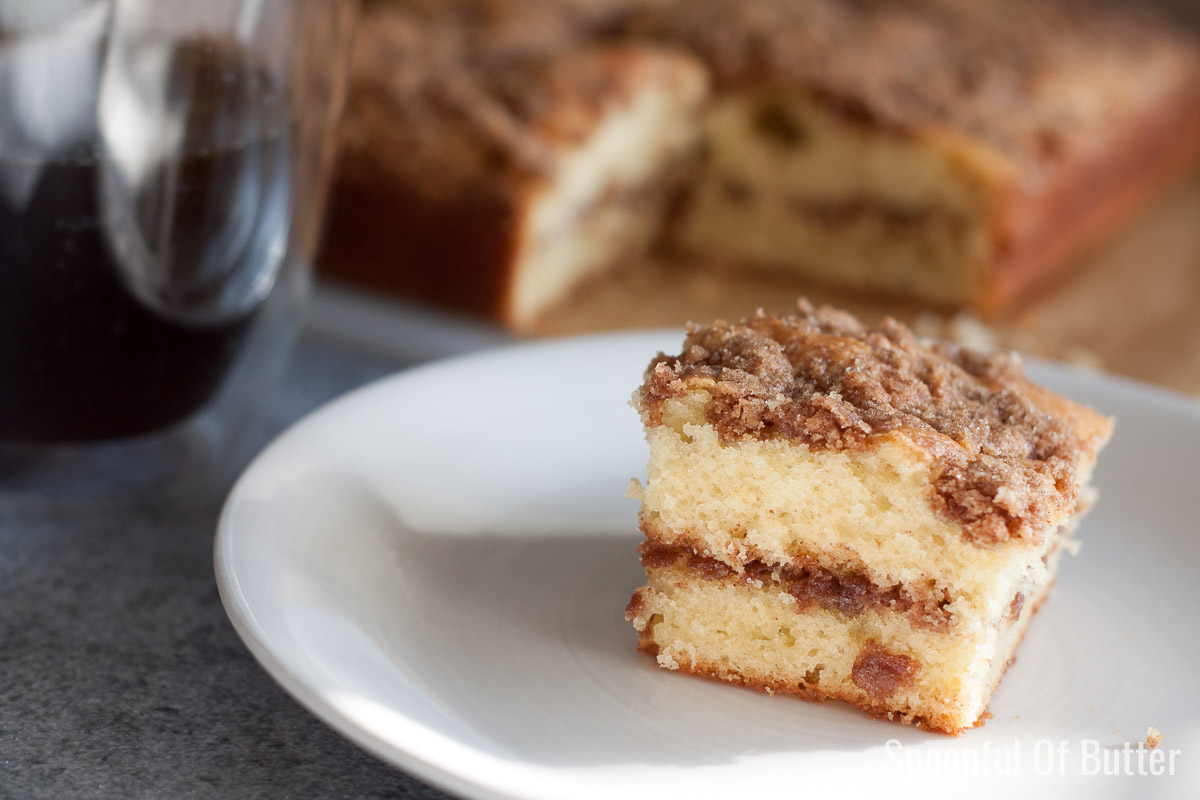 My husband lives on coffee, so I'm constantly looking for recipes that he can pair with it. Enter coffee cake…Now don't be surprise if this coffee cake has no coffee ingredient at all. It's called coffee cake because it's meant to be paired with coffee (…or tea for me!). They're a common part of a coffee break, a tradition that goes back to the first coffee houses in the late 16th century in Germany.
The best thing about this coffee cake is that it's incredibly soft and tender, with a bit of crunch from the cinnamon crumb topping. It is also not very sweet.
P.S. Do you need to make this vanilla cake in another pan size and shape? Download your free Baking Pan Conversion Chart!
tips, tricks, and techniques for success
Cake flour is an important ingredient to make this cake fluffy and tender, but can be substituted with a combination of all-purpose flour and cornstarch if it is not available:


CAKE FLOUR SUBSTITUTE

To make 1 cup of cake flour substitute: Combine 16 grams (2 tablespoons) of cornstarch and 105 grams (1 cup minus 2 tablespoons) all-purpose flour. Sift the two ingredients together three times to combine the ingredients and aerate the flour so that it will function more like cake flour.

This recipe calls for the cake flour to be sifted twice. It is important not to skip this step. You may ask why? The short answer is because sifting flour and other dry ingredients (baking soda, baking powder, salt) give you a more tender and finer crumb. Sifting spreads out the flour and breaks up any lumps that can weigh down the batter. It truly does make a difference!
It is extremely important that your ingredients are at room temperature for this recipe. Cold ingredients do not incorporate together as easily, or even at all! This results in clumpy buttercreams, dense cookies, flat breads, etc.
Cream the butter and sugar until it's light and fluffy. This usually takes 3-4 minutes, if using a stand mixer, at medium-high speed. This process forces air to get trapped in a web of sugar and fat particles and helps make your cake rise and keeps it very light and tender.

[the_ad_placement id="insidecontent1″]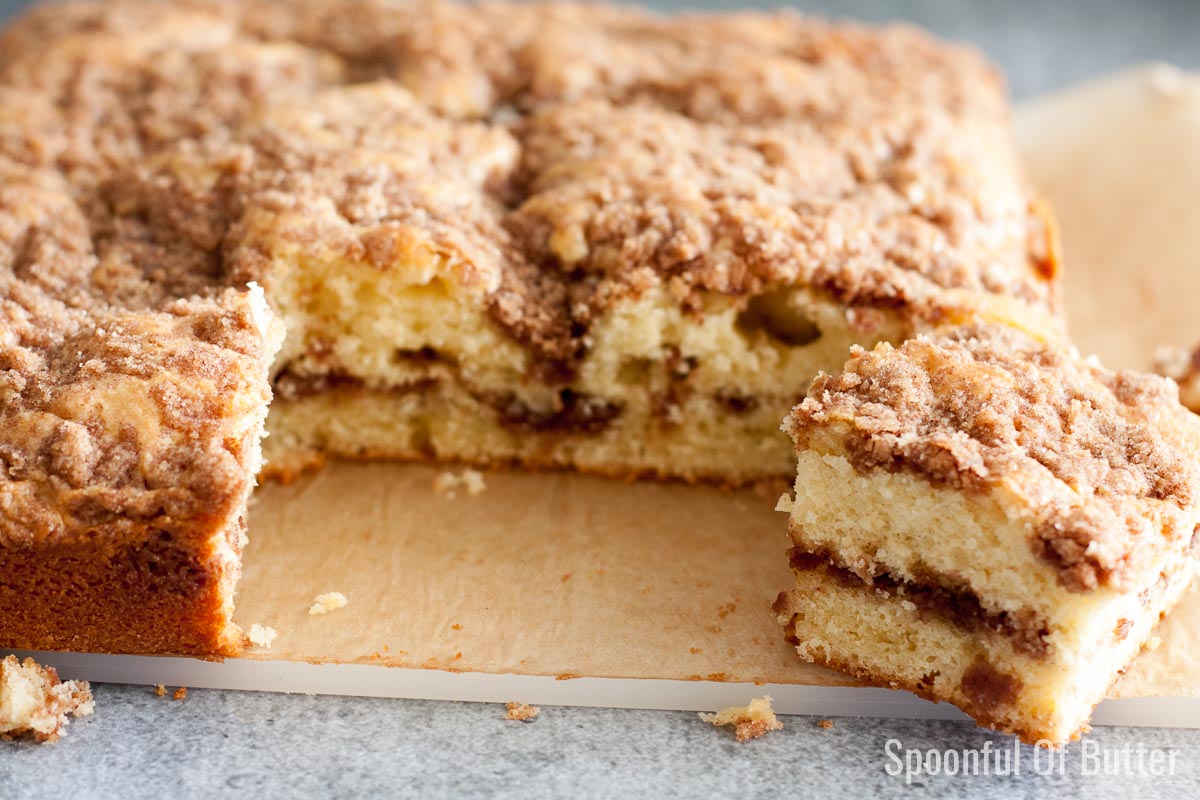 This post may contain affiliate links for your convenience. I may earn a small commission which helps keep my blog up and running but it won't cost you a penny more! Click here to ready my full disclosure policy.
here's what you'll need…
TOOLS & EQUIPMENT:
Ditch your cups and weigh your ingredients – it will give you consistent results every time. Try it and you will never look back on using cups again! There are a lot of reasons why you should measure by weight and entirely a topic of its own – I should write a separate post soon. 🙂

mixing bowl
pastry blender (optional)
rubber spatula
offset spatula (optional)
[the_ad_placement id="insidecontent2″]
INGREDIENTS:
For the Cinnamon Crumb Topping:
125 grams brown sugar
50 grams white granulated sugar
90 grams all-purpose flour
2 teaspoon cinnamon
1/4 teaspoon salt
85 grams unsulated butter, cold and cut into small pieces
For the Cake Batter:
210 grams cake flour
1 teaspoon baking powder
1/2 teaspoon baking soda
1/4 teaspoon salt
170 grams unsalted butter, at room temperature
200 grams white granulated sugar
1 1/2 teaspoon vanilla extract
2 large eggs, at room temperature
180 grams sour cream, at room temperature
[the_ad_placement id="insidecontent3″]
How to make Cinnamon Crumb Coffee Cake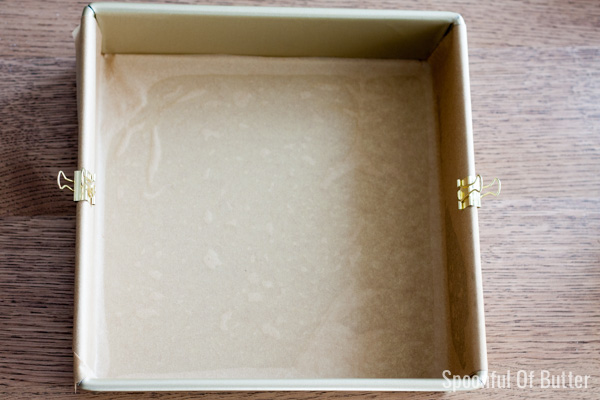 PREPARATION: Preheat your oven to 350F (177C). Grease and line a 9 x 9 (23 x 23 cm) square pan.
pro tip: I intentionally cut the parchment paper longer on the 2 opposite sides so it's easier to lift the cake later on. I put a clip on each side to make sure the hanging parchment paper won't go over the batter while in the oven.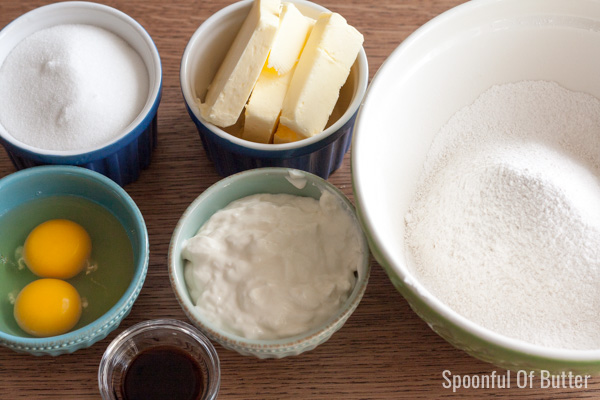 MIS EN PLACE. Measure all the ingredients needed for the cake batter. Set aside.
**Ensure that all the ingredients are at room temperature.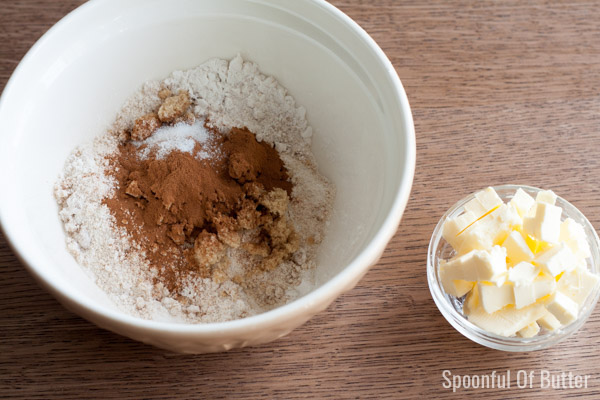 Measure also all the ingredients needed for the cinnamon crumb topping. Except for the cold butter, you can dump all the crumb topping ingredients in a bowl.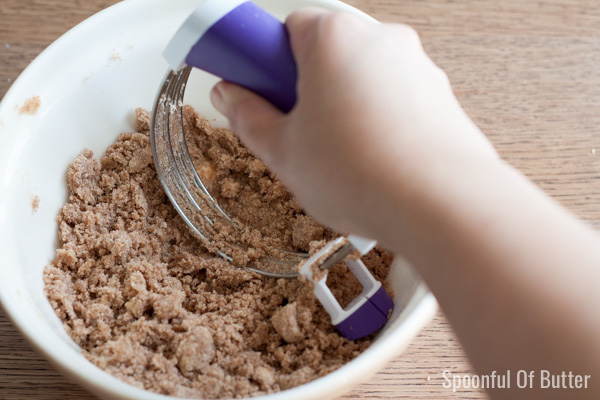 PREP THE CINNAMON CRUMB. In a medium mixing bowl, stir together all of the ingredients for the cinnamon crumb except the butter: brown sugar, white granulated sugar, all-purpose flour, cinnamon, and salt. Add the pieces of cold butter into the bowl and use a pastry blender or fork to cut the butter into the mixture until it is the texture of coarse meal.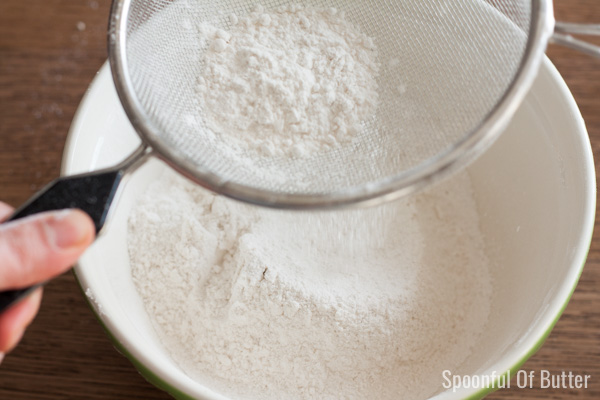 SIFT DRY INGREDIENTS FOR THE CAKE BATTER. In a large bowl, sift together the cake flour, baking powder, baking soda, and salt. Do this process twice.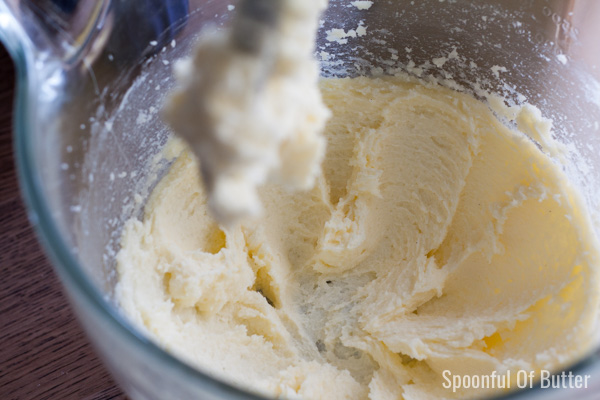 CREAM THE BUTTER AND SUGAR. In a bowl of a stand mixer fitted with paddle attachment, place the butter and white granulated sugar and cream on medium-high speed until light and fluffy, about 4 minutes.
Not sure what is medium-low and medium-high speed in your mixer? Click here to read the Stand Mixer Speed Control Guide.
[the_ad_placement id="inarticle1″]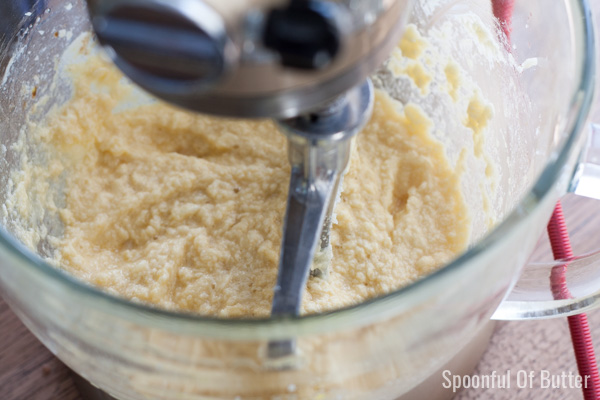 ADD THE EGGS. Reduce the mixer's speed to medium-low and add the eggs one at a time. Wait until the egg is absorbed into the mixture before adding the next one.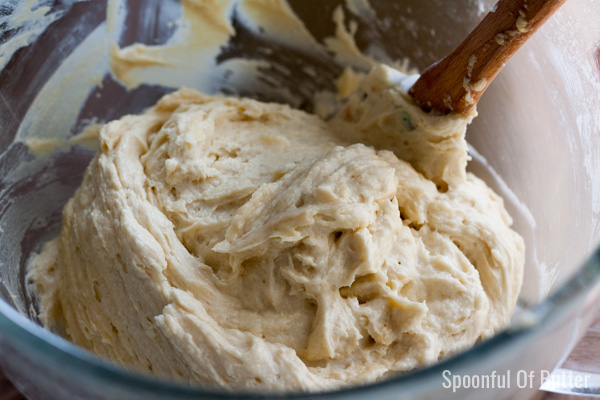 ALTERNATE ADDING THE DRY INGREDIENTS AND SOUR CREAM. With the mixer still running on medium-low speed, add about one quarter of the dry ingredients into the bowl. Once the flour is just incorporated into the batter, add about one third of the sour cream. Continue alternating adding the dry ingredients with the sour cream, starting and ending with the dry ingredients. Scrape the sides of the bowl in between, if needed, to ensure that everything is incorporated. The cake batter should be thick and heavy.
pro tip: It's easy to overmix the flour at this point, so it's important to note that you don't need to mix it for a long time. Overmixing can yield to a dry and chewy cake.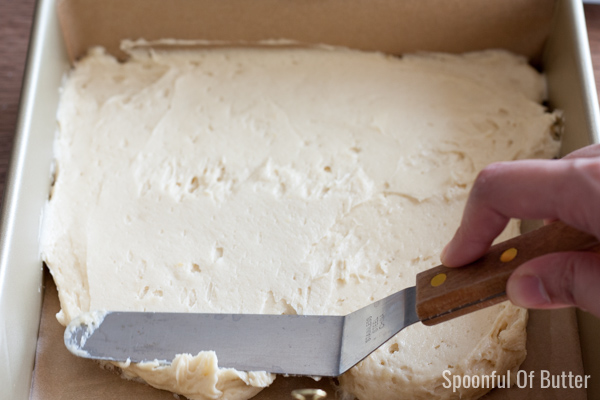 ALTERNATE CAKE LAYER WITH CRUMB TOPPING. Spread about one third of the batter in the bottom of baking pan.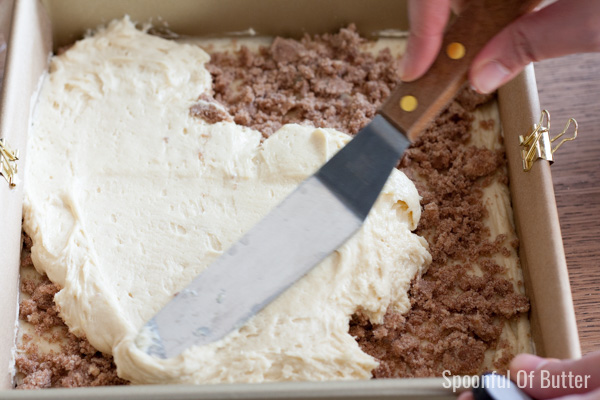 Top the layer with about half of the cinnamon crumb topping. Spread the rest of the cake batter over top of the cinnamon crumb layer and even out with an offset or rubber spatula.Top the cake with the remaining cinnamon crumb topping.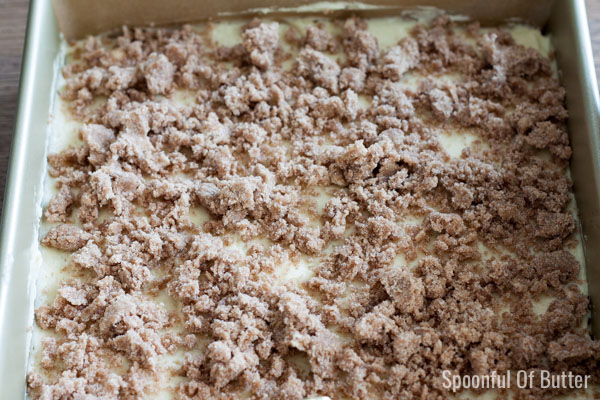 BAKE. BAKE at 350 F (177 C) for 40 minutes, or until a tester comes out of the center with moist crumbs.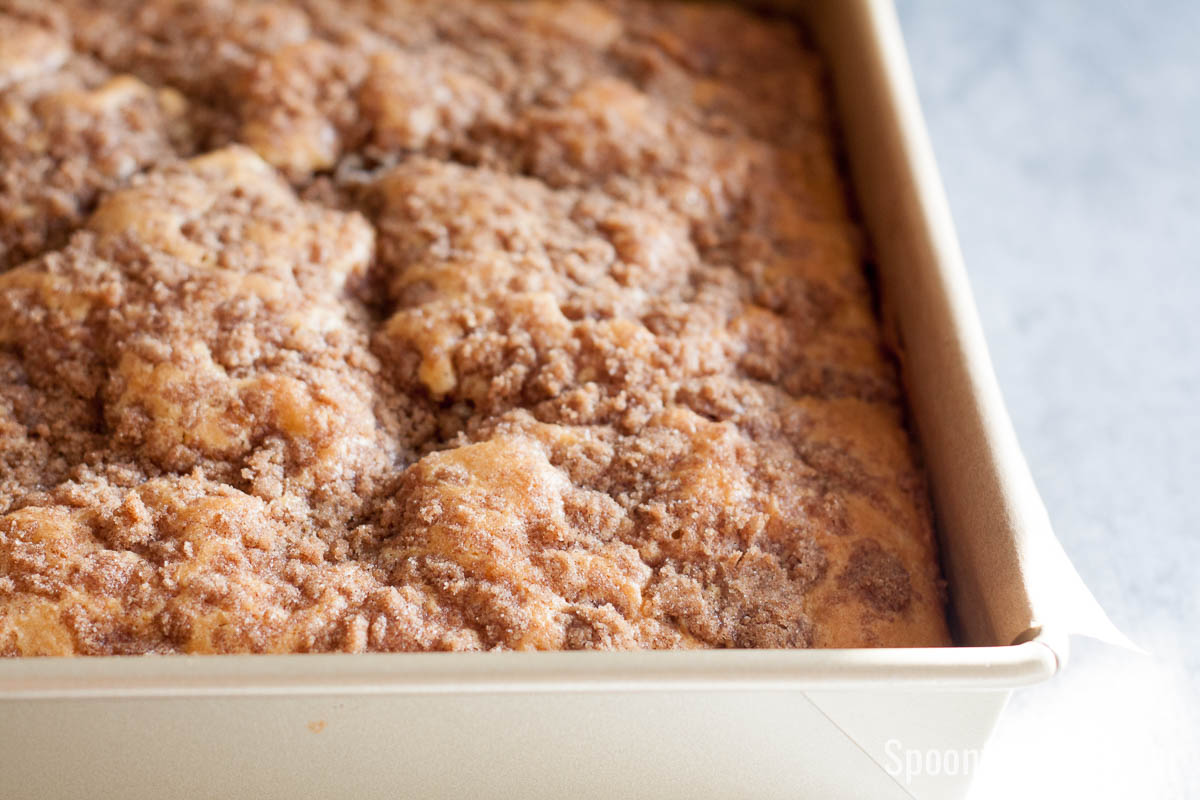 COOLING AND STORING. Cool before slicing. Easily lift the cake from the pan using the hanging parchment paper on the ides. Store at room temperature in an airtight container for up to 3 days.
[the_ad_placement id="inarticle2″]
Here's the print-friendly recipe. Enjoy!